Tbilisi is love at first sight. It is the capital and the biggest city of Georgia located in Eurasia, but people of Georgia fondly describe this place as balcony of Europe. Tbilisi has seen the rise and fall of many different empires since the 5th century AD. The Persians, Mongols, and finally Russians have had their chances with Tbilisi.
Tbilisi has amazing places to visit but it is an underrated and unknown destination to many. Lately, a lot of airlines have started offering cheap flights to Georgia due to which many tourists have started exploring this place. It is the best time to explore Tbilisi as it is still not very crowded here, but a few years from now, it might just be the destination that everyone wants to travel to because of how beautiful it is. There are a lot of things to do here, so make sure you plan a long trip and without any further adieu, lets just dive into the beauty of Tbilisi.
Narikala Fortress
You can hike up to this beautiful Narikala Fortress or take a cable car from Rike Park. Narikala fortress means "small fortress". It has been destroyed and restored a number of times, so there is not much to see here except broken walls, destroyed buildings, etc. Now you must be wondering why it has made to the top of my list then? Well, it is a must visit place for the amazing views it offers. Trust me, the views over Tbilisi from the top of this fortress are simply mesmerizing.
The little streets of Tbilisi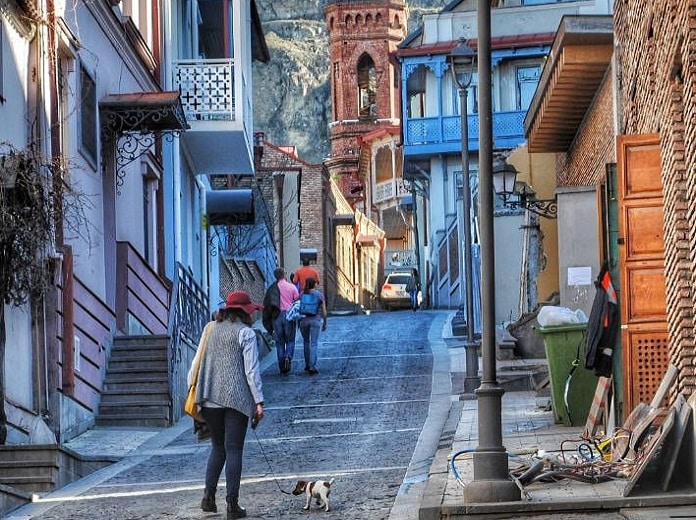 There are cute little alleys and streets all over the city. The streets of Tbilisi have their own unique charm. You must take a stroll here and visit the small shops on the streets which offer almost everything you might need. You can get unique souvenirs from these shops and then dine in one of the cafes around the streets. In my opinion, Tbilisi can easily be called as the Paris of Eurasia but better.
National Botanical Garden of Georgia
The National Botanical Garden of Georgia is situated on the southern side of the Narikala Fortress. Its history spans more than three centuries. The Botanical garden occupies area of 161 hectares and possesses a collection of over 4,500 taxonomic groups. It has a big area to explore and you will be required to do plenty of walking to see the diverse collection of plants. There is a waterfall and a lake here which are especially enjoyed by kids. It is a great place to relax and appreciate the beauty of nature. But, keep in mind that you will need to climb plenty of stairs and walk a lot to explore all the views this garden has to offer, so it might not be suitable for kids and the elderly.
Holy Trinity Cathedral Of Tbilisi
There are a number of churches you can find in Tbilisi, so you must be wondering what is so special about this one? Well, this is an iconic architectural wonder of Tbilisi. Holy Trinity Cathedral is the largest Orthodox Cathedral in Georgia, at 101 mt high, the 3rd tallest Eastern Orthodox Cathedral in the world, and the largest religious building in the world based on total area. It represents Georgia's faith in Orthodox Christianity. The cathedral has several floors and stairs with 9 chapels inside. Since this is an Orthodox Church, women are required to keep their hair covered with a scarf all the time. 
The Bridge of Peace
The Bridge of Peace is a pedestrian bridge, and one of the most famous tourist spots in the city. It is bow-shaped, constructed with steel and glass illuminated with zillions of dancing white lights. This bridge stretches to 150 meters (490 ft) over the Kura River and was ordered by the City Hall of Tbilisi to create a contemporary design to connect Old Tbilisi with the new district. So, it was constructed in 2010 to connect Tbilisi Old town with Rike park. The bridge was named one of the top 14 unusual bridges in the world and is one of the city's most modern elements.
More and more people are traveling to Tbilisi and hence, the uniqueness and authenticity of Tbilisi can be soon gone and Tbilisi might become yet another tourist destination that will offer pretty facades but the traditional vibes will be lost. So, book you tickets and explore the beauty of Tbilisi before it's too late.