South Africa is a great place for tourists who want to explore the scenic place, wildlife, thrilling games and have a luxurious vacation. Traveling around beautiful South Africa is what you want to enjoy during a relaxing vacation.
Be it the beautiful landscape or touring around the vibrant city or exploring the wildlife, South Africa has got everything. The Cape Town is one of the most gorgeous cities, don't forget to explore the rich culture and lip-smacking cuisine at Duban.
Here are the 5 Ultimate Tourist Attractions in South Africa
1. Kruger National Park

Are you a wildlife enthusiast and want to treat your photography skills? Kruger National Park is a must visit tourist destination in South Africa. It is the most popular safari parks and is also the oldest reserves in South Africa.
The Kruger National Park is few hours drive away from Johannesburg. Here you can witness 5 animals i.e leopard, buffalo, rhino, elephant and buffalo. The beautiful wildlife diversity should not be missed. This place is home to various flora and animals. Done forgot to take a walk through safari and soar over the lush green grasslands.
2. Stellenbosch

Looking for a picturesque sight in South Africa, Stellenbosch has a lot to offer their visitors. Be it the mosaic of farms, old beautiful oak trees or the whitewashes dwellings everything will amaze you for sure.
The Stellenbosch gives you a vibrant feel, all thanks to the scenic view. It is the ultimate destination for all the food lovers. Don't forget to enjoy local delicious food. In the surrounding area, you can bike and hike for a breath taking experience.
3. The Garden Route

This coastal attraction in South Africa offers the most breath taking scenery which you should not miss. It is a famous driving route which covers beautiful lakes, lagoons, coastal cliffs, and green hills.
The major highlights of the Garden Route include the beautiful town of Knysna which is located between forests and lagoon. The Garden Route is a go-to destination to connect with nature and click marvellous pictures.
4. Cage Dive with Great White Sharks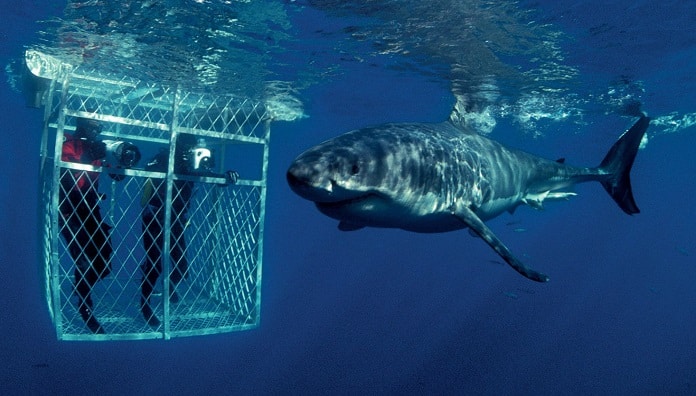 Are you up for some thrilling experience??? Bring out the adventure enthusiasts in you, come face to face with a gigantic white shark. Don't worry, you are safe inside the thick iron cage which is thrown into the ocean. It is a popular sport among the thrill seekers who visit South Africa.
The best time to indulge in Cage Dive with Great White Sharks is between April to October. If you want to just witness the white sharks, you can visit throughout the year. All credit goes to the healthy fish population.
5. Johannesburg and Pretoria

The spectacular Johannesburg is South Africa's largest city and a go-to destination for all the travellers. It is also popularly called as the City of Gold, all thanks to the deposition of precious metal.
Moreover, this city is economically developed and welcomes a huge number of travellers every year with great enthusiasm. When you are in Johannesburg don't miss out the hot spot attractions like Apartheid Museum. Constitution Hill, Gold Reef City.
The gorgeous Pretoria is the administrative capital and has beautiful parks and gardens where you can spend quality time. Freedom Park, Voortrekker Monument, and Heritage Site are a must visit when you are in Pretoria.
South Africa is a beautiful country with diversity. It is the best place to explore varied culture, beautiful wildlife, alluring scenery, and peaceful beaches. In short, it is a piece of paradise and a must visit for all the travellers who want to enjoy the best.