Situated in western South America, Peru is known for its ancient ruins, colonial architecture, rain forest, snow-capped mountain peaks and beautiful landscapes. There are also many adventurous activities that you can do in Peru like hiking, trekking, sandboarding etc. Check out some of the amazing tourist spots in Peru that you should visit while exploring this ancient Inca city.
1. Inca Trail:
It is a world famous hike passing through mountains, Inca ruins and forests. It takes four days to reach at the end point of the trail. As it is a high-altitude trek, so you should be careful while hiking otherwise you may encounter altitude sickness. The best time to go for hiking is from May to September.
2. Lake Titicaca:
Located in Puno region of Peru, this world's highest navigable lake with its surrounding scenic area and traditional small villages will make you familiar with natural beauty and rich culture of Peru. The best way to explore its charm is through boat trip.
3. Machu Picchu: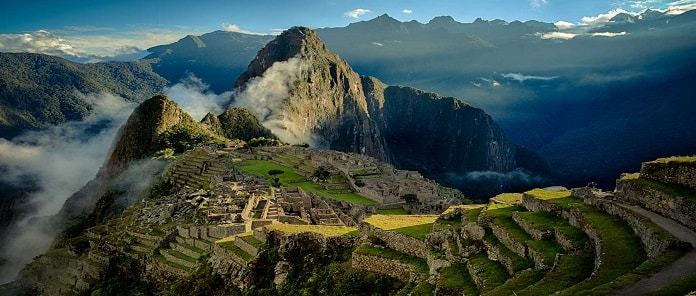 Machu Picchu, a great archaeological wonder is the most visited place in the country. According to Hiram Bingham, discoverer of Machu Piccchu, it was the "Lost City of the Incas". You can find many well-preserved structures at this place like temples, houses, baths etc. The best time to visit Machu Picchu is between June and August.
4. Nazca Lines:
Situated between the towns of Nazca and Palpa, Nazca lines have geometric designs and images of various birds and animals such as llamas, monkeys, humming bird, killer whale and fish. You can view Nazca lines through round flights offered by tour agents and hotels.
5. Lima:
Lima, the capital and largest city of Peru, is a perfect combo of old and modern architecture. There are many things to see in Lima like historic monuments, beaches, monasteries, old churches and also America's oldest university. Lively nightlife and vibrant culture also attracts many tourists.
6. Colca Canyon:
Colca Canyon is one of the most popular tourist places in Peru. With 4160 m depth, it is more deeper than the world-famous Grand Canyon. Andean condors soaring past the cliff walls is the center of attraction for many people. Colca Canyon also offers adventure sports to its visitors, thus must take advantage of that.
7. Huacachina:
Surrounded by large sand dunes, this small oasis town is situated near Ica. It looks very beautiful during night. Huacachina lures many sports lovers to enjoy sandboarding and a dune buggy ride, thus you will have a lot of fun at this place.