With its picturesque landscapes, beautiful castles, amazing wildlife and astonishing museums, Scotland attracts millions of tourists every year. Scotland is also famous for its seafood and whisky, so don't forget to taste it while exploring the country. There are some tourist places in Scotland that you must visit such as
1. Loch Ness:
It is the Scotland's second largest loch after Loch Lomond. Loch Ness is famous for alleged sightings of Nessie, a notorious sea monster. The beauty of this mysterious place allures many visitors. It is also a home to many fish species such as Brown trout, Atlantic salmon, Northern pike and European eel.
2. Edinburgh Castle:
Edinburgh castle resting on the top of an extinct volcano is the most popular tourist attraction in the Scotland. You can enjoy spectacular view of city landmarks like the Princes Street, Royal Mile etc from this fortress. Edinburgh castle is also one of the best examples of Scottish architecture, thus don't miss it.
3.  Cairngorms National Park:
Situated in northeastern part of the country, Cairngorms national park allows its visitors to see many endangered species like red squirrel, Scottish wildcat, golden eagle, ospreys etc. The adventure enthusiasts can do skiing and hiking at this place. The park also has highest mountains of the country that offers breathtaking views.
4. Kelvingrove Art Gallery and Museum: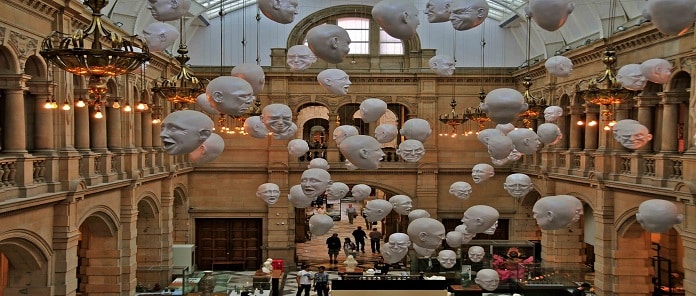 If you want to explore a magnificent civic art collection of Europe, then Kelvingrove Art Gallery and Museum is an ideal destination for you. It is located in the Argyle street of Glasgow, the largest city in the country. The most interesting part is that no entry fee is required here for viewing more than 8000 stunning objects.
5. Stirling Castle:
Perched on Castle hill, Stirling castle is of great importance from historical and architectural point of view. It was also a preferred place of residence for Stewart kings. This castle will remind you glorious time of the 16th century. If you want to know the full history of castle, then don't miss the guided tour.
6. Cuillin hills:
Situated on the Isle of Skye, Cuillin hills will make you familiar with unbelievable natural beauty of Scotland. Here, you will find two types of cullins i.e. Red Cuillins and Black Cuillins. There are three ways by which you can approach the hills but the Glen Sligachan is the mostly used route. Red Cuillin hills look more attractive as compared to Black Cuillin hills.
7. Luskentyre beach:
It is one of the best and most beautiful beaches in the country. You can locate it on the west coast of Harris island. The combo of blue-green water and white sand really looks fabulous. So, you should visit Luskentyre beach and have some memorable experiences.