Amsterdam, the capital city of the Netherlands is known for a lot of things. It is famous for its more than 160 canals, museums, buildings, parties, lifestyle, alluring scenery and so much more. Along with all these things this place is also famous for its dutch cuisine. How can you complete your trip to this place without trying the delicious dutch cuisine, their famous street food and so much more? There are traditional dishes and some fusion dishes or dishes that have foreign influence. You can have some nice snacks with freshly brewed chilled beer here in Amsterdam. This place has lots of restaurants and cafes to enjoy some great food.
Here is a list of food items/dishes that you can try when you are in Amsterdam.
1: Stroopwafel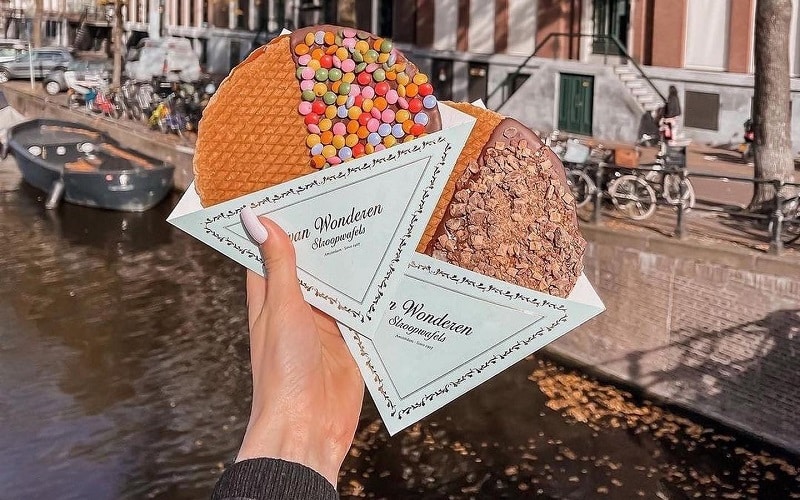 This has to be one of the famous and sweetest dishes that you can try during your visit. This is a simple and sweet dish that you can have. This is made by creating thin layers and having a filling of sweet syrup in between these two layers. This is usually eaten fresh and hot. You can take it with you and get it packed as well. Just put the stroopwafel over a hot drink so that the syrup inside gets heated and liquid again. This is great street food that you can enjoy while strolling around the city.
2: Fried salt cod
Fishes are a great dish here and are famous. Salt cod is famous across the globe and this is also a great dish here. You can have fresh friend salt cod here with delicious tartar sauce. This is a hearty meal that you can have as brunch or lunch. You can get this freshly fried salt cod at almost all the eateries and even some stalls here in Amsterdam. Get this dish and enjoy your stay in the city.
3: Poffertjes
This is another sweet dish that you can have when you are here in the city. This is a dish of small sweet pancakes that are drizzled with butter and syrup. You can have this heavy meal in any restaurant and cake. This is the perfect dish to try when the weather is cold or when it is raining outside. These fluffy and sweet pancakes are super delicious and filling.
4: Bitterballen
Now when you are in Amsterdam you would visit a club or bar to have the famous beer. With beer you would want to have something to eat and that something is these delicious meatballs known as bitterballen. These are made with meat and other fillings with are then covered in bread and fried until they are crispy. These are served with mustard or other sauce and are delicious. You can have them with beer or can have them alone. These are also great takeaway food when you want to walk and explore the city while eating something.
5: Dutch cheese
How can you be in the Netherlands and not have the famous Dutch cheese? There are many cheese shops and a large variety of cheese to select from. You can get to several shops and can also try different kinds of cheese. There is some amazing quality cheese that you should try. A trip to Amsterdam is incomplete without a cheese shopping or a cheese tasting. This work wonders with crackers, ham, wine, fruits, and other things. Get some for yourself and get that along with you to your home and enjoy some amazing dishes with the delicious cheese
Conclusion
It is important to try and have the famous and traditional dishes when you visit any place. There are so many dishes you can try at a new place and learn more about their lifestyle and culture. This list provides you with the food items that you can try when you are in Amsterdam. You can enjoy some street food while strolling around the city and enjoying the lovely weather and scenery. This place is truly magical and a great destination to enjoy a vacation. You can plan a nice getaway from your daily routine here in Amsterdam, Netherlands. Visit this beautiful country in an alluring country and have a great time.