Africa is known around the world for many reasons and the most famous one being the African Safari. The African Safari is placed highest on everyone's bucket list. One gets to discover the rugged landscape and exotic wildlife of Africa along with rich varied cultures. As attractive as it sounds, the visual is even more stunning. It is always interesting to choose a safari that is eco-friendly and reduces our carbon footprint. The Jumbari family safaris are responsible for tourism practices and wildlife conservation. A balance needs to be maintained and so, they have brought to us some really exotic eco-friendly safaris that will be an experience of a lifetime.
Here's a list of African safaris where you can spend time and discover to the core for 5-10 days and never forget it.
THE OKAVANGO DELTA & CHOBE SAFARI, BOTSWANA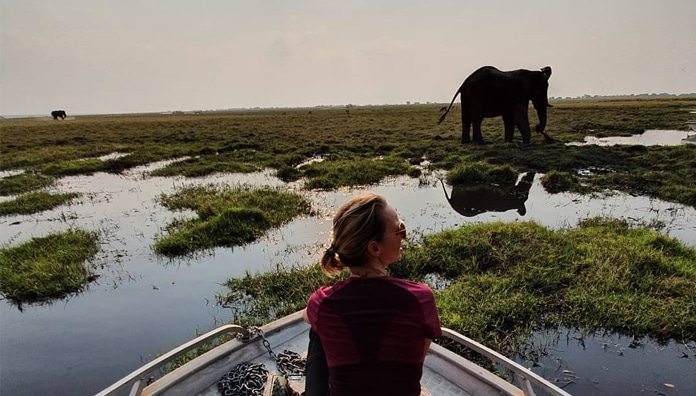 All those animal and photography lovers, this is for you. Pack your bags and get ready for the most enthralling experience of your life. For a span of 5 days, this safari will give you plenty of opportunities to capture unseen wildlife activities. This tour starts in Kasane and ends in Maun. Living within the lush greens and going on an exhilarating boat safari along the Chobe river is something you don't want to miss. There are also some daily game drives for your entertainment and elephants, lions, the wild beast can be spotted insight in Okavango Delta.
You can stay at the Elephant valley lodge and the Kadizora camp where children below 12 years of age are also welcomed so it's family-friendly. Both these stay camps are eco-friendly and run on solar power and gas only; they also utilize a water purification and waste management plant.
KRUGER PARK ECO CAMP SAFARI
Kruger Park is the most exciting African safari destination with vast landscapes and spectacular African wildlife. Steeped in legend and history, Kruger national park is truly iconic. You get to discover Africa's Big five: Elephant, Lion, Rhino, Leopard, and Buffalo in this 3-day tour. With a mixture of classic safari tours, exotic safari lodges, and tented camps, this one reflects a wilderness experience. Even children enjoy this magical journey into nature. A lot of activities like an entertainment center, jungle gyms, face painting, and blush Olympics keep them happy and active.
You can look for accommodation in Malelane, Marloth park and a white river. The surrounding areas have exclusive villas, hotels and guest houses for your comfort after a fun tiring day.
VICTORIA FALLS & ELEPHANT ECO-LODGE SAFARI
This safari visits two luxury eco-lodges; one in Zimbabwe and one at Chobe National park in Botswana.  This 10-day tour begins in Cape town at the foot of the Table mountain where you can experience the beautiful sunset. The tour includes wine tasting at Backsberg vineyard which is highly committed to environmental practices and is one of the only three carbon-neutral wineries in the world! The elephant's eye is built of canvas and steel thus reducing the use of wood and the environmental impact of the structures. It also provides its guests with biodegradable products and uses eco-sensitive products at the lodge.
 This site is a naturally occurring waterhole. Elephant eye simply aims to create awareness about the key role that nature conservation plays in sustaining the beauty of wildlife of Africa.
TANZANIA AND ZANZIBAR SAFARI
This tour starts at Arusha coffee lodge located in a coffee plantation on the outskirts of the bustling town of Arusha in Tanzania. In a span of 10 days, you will experience spectacular activities and drives in Lake Manyara, Serengeti National park and the Ngorongoro crater, one of the best places in East Africa to see the big five.
On the other hand, in Zanzibar, you will travel through a very peaceful village of Kendwa on the Northwest coast and indulge in thrilling sports activities. You can stay at The manor, Serengeti Pioneer camp and gold Zanzibar. At the Manor, you will encounter visits to the local Maasai village to support local community.
These 'green safaris' are the ultimate carbon-neutral experiences where people come from far off places. All these environmentally responsible travel options are on your budget! Travel happily!