The stunning city of La Paz in bolivia is a place your should spend your next vacation at. Bolivia has an amazing landscape with serene nature and mountains and snow-covered hills and salt flats. La Paz is a city that is rich in history and culture and is a lively place to spend some time at. Usually, this is the city people do not visit much on their vacation to Bolivia but here is why you should plan your vacation to this city and spend your time. This city is the country's largest city and has amazing museums and wonderful mountains. You can go around the city and have a great adventurous time here. Look at the activities that you can perform when in the city.
1: Mi Teleferico
This cable car is a great way to commute in the city and avoid traffic. This cable car provides you with a great bird's eye view of the city when you are moving from one station to another. Mi Teleferico translates to my cable car and this car connected places that are even 10km away from each other. You can get to travel hassle-free, enjoy the view of the city from a height, and at the same time save time by not commuting through traffic-filled roads. You should travel through this cable car at least once when you are here.
2: Cycling the Yungus Road
This is one of the most dangerous roads and is located in La Paz and continues to the amazon rainforest. This road is extremely dangerous for vehicles due to its slopes, single track, no guardrails covering the road, rain, and fog making it difficult to drive vehicles on this road. However, this road is a great place for mountain bikers who would like to get the adrenaline rush and be surrounded by nature around. There is a wonderful long road where you can bike and ride downhill from La Cumbre to La Paz.
3: Walking through Calle Jaen
This is a cobblestone street that is an amazing colonial street that would take you back in time. Calla Jaen has vibrant houses that were built centuries ago during the colonial period along with some cute cafes, and entertainment zones. You can get to learn about the history of this city by visiting the numerous museums present here. Some of the museums here are Museo Del Libral Boliviano and Museo Costumbrista Juan de Vargas. The latter is the one where you would learn about the artifacts of the city to describe the history and the former tells the war tale between bolivia and chile.
4: Hiking Huayna Potosi
To have a wonderful and super adventurous vacation, you can get go hiking and mountain climbing on Huayna Potosi. This is a hike that is solely for experienced mountain climbers and hikers as this is located at high altitudes. This glacier trek is a risky and adventurous one and thus you should only take part in this if you are an experienced hiker. It takes almost three days to complete the hike.
5: Plaza Murillo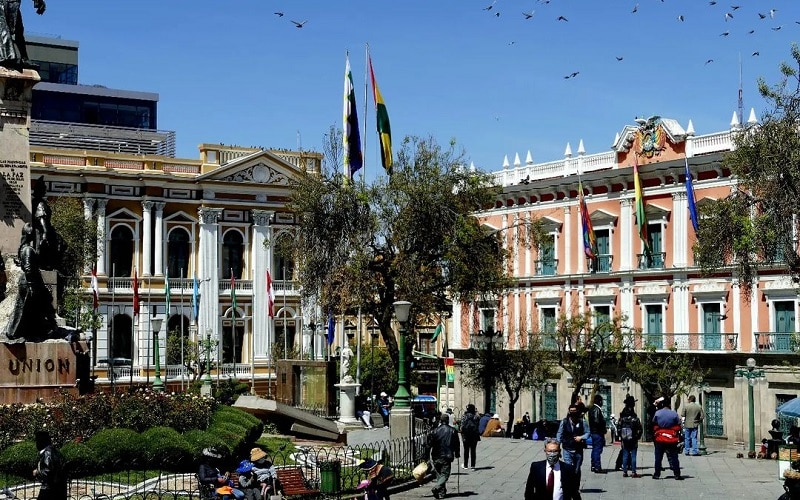 This is a cute plaza where you can enjoy the scenery around. This is the place which is surrounded by several buildings such as the presidential palace, cathedral and so much more. This is the place where you can sit on the bench, have some photography, and feed the pigeons, and is the place where several events and celebrations happen. This is a cute place in the city to rest and enjoy some time at.
Conclusion
These are some of the places that you can visit when you are in La Paz, bolivia.
This country has so many beautiful cities that you can visit after visiting La Paz. La Paz is a fantastic city that has so many different places and unique landscapes where you can spend a good amount of time. This is the place for people who want to have an adventurous vacation by trekking, cycling, visiting places with beautiful history and so much more. When you are here, along with traveling you must try the wonderful food and drinks that this city would provide you. Authentic food is a must in any trip to enjoy and complete the trip.