Virginia also known as the Old Dominion State is a melting pot of cultures and traditions. its cuisine reflects the state's diverse history and is a blend of southern, coastal, and Appalachian flavors. Virginia offers a wide variety of culinary experiences that are sure to satisfy any food lover. from seafood to barbecue to farm-to-table dining, there is something for everyone. the state's cuisine is heavily influenced by its coastal location, making seafood a popular choice. Virginia is also renowned for its ham which is cured and smoked using the traditional method that has been passed down for generations. with a thriving wine industry and some of the best wineries in the country. so let's explore some of the top foods to try in Virginia and experience the unique flavors of the beautiful state.
Best Food You Should Try in Virginia
Chesapeake Bay Blue Crabs
Chesapeake Bay Blue Crabs are a staple of Virginia's coastal cuisine and a must-try for seafood lovers. The blue crab is a species that is native to the Chesapeake Bay, and Virginia is home to some of the best blue crab harvesting in the world. The crab is typically caught in the Chesapeake Bay during the summer months and is steamed whole in a blend of spices, including Old Bay seasoning. The meat from the blue crab is sweet, succulent, and flavorful, making it a popular choice for seafood dishes. Blue crabs can be found on the menus of many seafood restaurants in Virginia, and they are typically served with melted butter, vinegar, and Old Bay seasoning.
Virginia Ham
Virginia Ham is a cured and smoked ham that has a distinctive flavor and texture. The ham is made using a traditional process that involves rubbing the ham with a mixture of salt, sugar, and spices, and then smoking it over hickory wood for up to a year. The result is a ham that is salty, smoky, and savory, with a texture that is firm and dense. Virginia Ham has been a part of the state's cuisine for over 200 years and is considered a delicacy by many. It can be served on its own as an appetizer or as the main course in a meal. Some popular ways to enjoy Virginia Ham include serving it with biscuits, in sandwiches, or with red-eye gravy.
Barbecue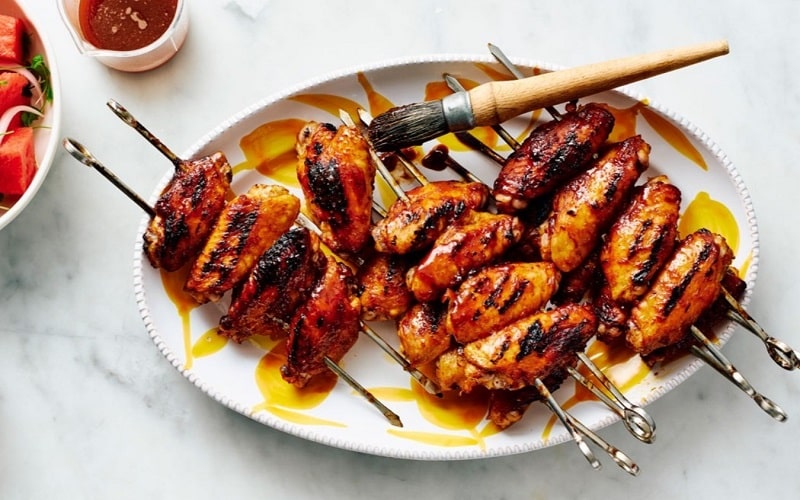 Barbecue is a beloved dish in Virginia, and the state is known for its unique style of barbecue that features slow-cooked meats with a sweet and tangy sauce. Virginia-style barbecue typically uses pork as the main meat, which is slow-cooked over a wood fire for several hours until it is tender and juicy. The meat is then served with a sweet and tangy sauce that is made from a blend of vinegar, ketchup, brown sugar, and spices. Barbecue joints are plentiful throughout the state, and each one has its own take on the classic Virginia-style barbecue.
Virginia Wine
Virginia's wine industry has been growing in recent years, and the state is now home to over 300 wineries. Virginia is known for producing high-quality wines, and the state's wines have won numerous awards in national and international competitions. The state's wine industry is centered around the Blue Ridge Mountains, which provide a unique terroir that is perfect for growing grapes. Virginia's wineries offer a variety of wines, including Chardonnay, Cabernet Franc, Viognier, and Merlot. Many wineries offer tours and tastings, allowing visitors to sample the different wines and learn about the winemaking process. The state also hosts several wine festivals throughout the year, including the Virginia Wine Expo and the Virginia Wine Festival.
Bottomline
Virginia's culinary scene is as rich and diverse as its history and culture. From the succulent Chesapeake Bay Blue Crabs to the world-renowned Virginia Ham, and the lip-smacking barbecue to the award-winning wines, Virginia offers a range of gastronomic experiences that are hard to resist. Whether you are a foodie or just looking for a unique culinary adventure, Virginia is the perfect destination. The state's cuisine is a reflection of its coastal location, and its unique blend of Southern, coastal, and Appalachian flavors is sure to tantalize your taste buds. So, the next time you are in Virginia, don't miss the chance to savor some of the local delicacies and immerse yourself in the state's rich culinary traditions.
Read More: Top European Foods That are Loved in America