The national parks of Australia are your gateway to some of the most diverse and dramatic natural landscapes on Earth – home to more than 12,000 species of wildflowers, some of the whitest and most pristine beaches and one of the world's 34 biodiversity hotspots.
1. D'Entrecasteaux National Park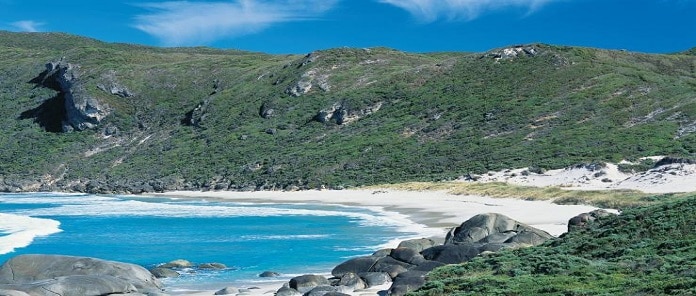 D'Entrecasteaux National Park combines pristine beaches and tall forests in a spectacular landscape along the southern coastline. Go bushwalking through dense forest and coastal tracks, or four wheel driving through sand dunes. Be warned – the dunes in this area move with the weather so be sure to take a map and compass with you!
The beach fishing is also first rate, or try one of the several river and inlet systems throughout the park. In spring, you'll be rewarded with beautiful wildflowers. There are camping facilities at Yeagarup Lake, Yeagarup Beach, Carey Brook, Crystal Springs and Walpole's western beaches.
Or if the thought of carting the tent, bedding and cooking gear is a bit much, take advantage of the camp set-up services on offer in the area. Book ahead and you can arrive to find your camp set up for you – tent, bedding and barbecue included, with an optional canvas ensuite.] The Park is a four to five hour drive south of Perth and can be accessed from Pemberton, Northcliffe or Windy Harbour. Windy Harbour, Salmon Beach, and Broke Inlet are the only coastal areas which are accessible by conventional vehicle.
2. Cape Le Grand National Park
There aren't too many places in Australia where kangaroos sunbake on the beach, but at Cape Le Grand National Park this is just one of the many natural highs on offer. This pristine park near Esperance is known for its stunning scenery and idyllic beaches where you can go swimming, bushwalking, fishing and camping.
The landscape changes from massive granite outcrops to freshwater pools and unbelievably white sandy beaches with views over many islands. Lucky Bay is home to a colony of friendly kangaroos which are often seen soaking up the sun. It also offers a great camp site and picnic area. With beachside views and tranquil atmosphere, this is camping at its best.
3. Yanchep National Park
Yanchep National Park is the perfect place to experience a true Aussie environment in a pristine, national park. Visitors can experience Aboriginal culture (subject to availability), participate in a cave tour and admire heritage architecture, Australian flora and fauna including kangaroos and koalas, walk along the park's trails, enjoy a picnic in the natural surrounds or dine at one of the park's dining facilities.
Crystal Cave is open daily for tours and the park offers a choice of nine interesting walk trails ranging in length from 500 metres to 55 kilometres. See collapsed cave systems, gorges, pristine coastal wetlands, or haunted historic remains. Choose a walk trail to suit your fitness level and time frame.
4. John Forrest National Park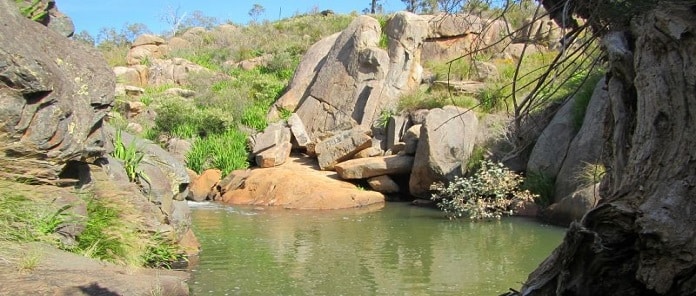 John Forrest National Park is one of Australia's oldest conservation areas and Western Australia's first national park. Located in the Darling Ranges about half an hour's drive from Perth, the park offers excellent bush walking, cycling along the Railway Reserves Heritage Trail and scenic drives.
There's plenty of wildlife to observe including many native birds, kangaroos and bandicoots. In spring time, wildflowers colour the landscape. There are great picnic facilities and extensive walk trails and a tavern is open regularly. The park covers more than 2,500 hectares of land and is best accessed from Great Eastern Highway.
5. Kalbarri National Park
Over 183,000 hectares of outback adventures, dramatic gorges and dazzling wildflowers make Kalbarri National Park one of Western Australia's most popular places to visit. The seaside town of Kalbarri is a six and a half hour drive north of Perth. You'll also find Kalbarri National Park on the itineraries of many tours departing from Perth.
To see the park ablaze with the colours of spring, visit between July and October. Over 1,100 varieties of wildflowers are found there, from Grevilleas to feather flowers.
6. Karijini National Park
Two billion years in the making, Karijini National Park is one of Western Australia's most spectacular natural attractions offering amazing hiking trails through ancient gorges. With massive gorges, crystal clear rock pools and waterfalls, Karijini National Park is a must for anyone with a thirst for adventure.
Explore tunnels of marbled rock, clamber over boulders, squeeze through narrow tunnels, paddle through waterways and descend deep into ancient chasms. Permanent water pools means there's always the chance for a refreshing swim. There are excellent picnic areas as well as allocated camping sites within the park.
7. Walpole-Nornalup National Park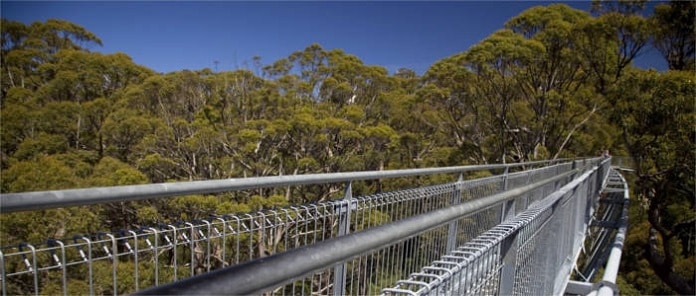 See giant red tingle trees at Walpole-Nornalup National Park in the south of Western Australia. These towering old growth forests are part of the Walpole Wilderness area and have remained virtually untouched.
To get up close to these pristine forest beauties visit the Valley of the Giants and Tree Top Walk to the east of Walpole. You can get a magnificent view of the forest canopy from the Tree Top Walk, while the Valley of the Giants leads you to giant red tingle trees with trunks up to 20 metres in circumference.
Walpole-Nornalup National Park is also home to a rugged coastline, peaceful inlets, rivers and forests of karri trees.