Switzerland is on the bucket list of every person in the world and why not? It is one of the most gorgeous destinations that we can think of! With spectacular beauty in our sight, scintillating and quirky vibes, mind-blowing scenic- this is the place to be, for your ultimate holiday! And while you are at it, why just explore the city when you can dip in the waters! Well, Switzerland is truly a heaven on earth with amazing food, beautiful streets and breathtaking beauty. It has the most magnificent mountains and landscapes that you can explore if you get on their luxury cruises. Switzerland has a variety of opulent lakes where you can cruise and have an experience of a lifetime. With astounding 7000 lakes with crystal clear waters, we have narrowed down the best ones for your cruising. These offer a wide range of services along with breathtaking views. So, stop thinking and be ready to plan your next cruise right away!
Lake Brienz
Cruising at this lake is going to leave you with the most fun memories. Lake Brienz is a beautiful craft of water amidst the town of Brienz where the cruise takes you alongside multiple stops. You witness the most beautiful peaks and mountains in your sight and thank god for their existence. The best thing about this cruise is that you can get on it on sunny as well as rainy days. No one is stopping you! It offers a lot of services to deal with every kind of weather and so, this is a complete package for ultimate cruising. Lush greenery, cloudy sky, mountains and waterfalls in your sight- what else does one want? This lake cruise has a small restaurant on the deck where you can enjoy your food with a view! In the evening, special barbeque dinners are arranged for the guests. So, what are you waiting for?
Lake Lucerne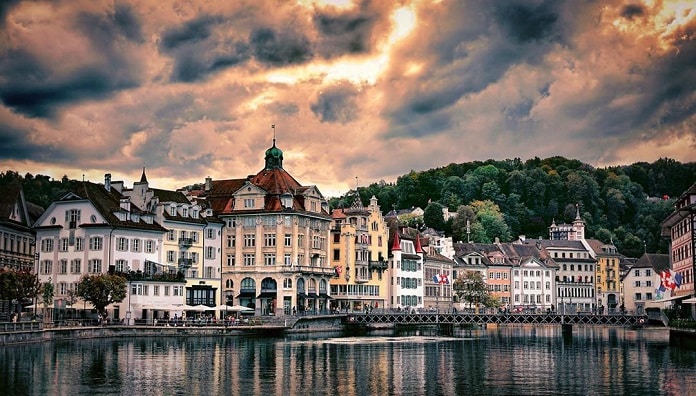 This is the most beautiful lake in Switzerland without a doubt. If you are planning to take a cruise, put this as a priority on your list. The incredible city of Lucerne offers a once in a lifetime experience for all its visitors. Cruising through this lake, you will have a great view of the picturesque city of Lucerne. Simply gazing at it is totally worth every penny. The beauty is doubled when you spot snowy peaks in the view, what bliss! This cruise will unfold a variety of scenic views for you as you move on. Sometimes you will spot cloudy skies and sometimes, there will be greenery all around. The cruise also offers multiple restaurants and open decks for a great morning and evening.
Lake Geneva
The largest one in Switzerland, this one surely deserves your footsteps! This lake shares a boundary between Switzerland and France which makes it all the more attractive and worth going! Geneva, as everyone knows, is the hub of UNO headquarters, is one of the most popular cities in Switzerland. Perhaps, for its hustle-bustle and radiant lifestyle! Each one of us must visit this city and if not that, just take a cruise along this lake and see the most picturesque views ever! With this one, you will have your meals with a view all day because there is not even one dull moment on the entire cruise. The view of Mont blanc ranges and expensive vineyards is a catch here!
Lake Zurich
Another Gem in Switzerland, Zurich is one of the most expensive and high-end cities in the world. It offers the best of everything-whether it is food, sightseeing, fun activities or simply relaxing. Zurich has everything you have ever dreamt of. So, if you are cruising across this lake, you will have the ultimate fun of your life. It offers specialty cuisines with loud music and playful dance vibes all the time. It is like a party place for everyone. Along with exciting views, it also features the view of iconic sunset where you can relax and have a chance to get in touch with nature's beauty.
Lake Thun
With a spectacular view of the Bernese Alps and medieval castles, this one offers the most stunning views. Thinking of cruising across Switzerland and not adding this one on your list is just not fair. Lake Thun extends for about 17.5 km and is hands down, one of the best! This cruise runs from early morning to late evening through some cozy villages in your sight and view of the alps. If you are someone who loves adventure, pick this one. This cruising is non stop so you will have endless adventure and pleasure watching the beauty of this Swiss land. Another highlight is the Swiss castle Schloss Oberhofen which is a delight to watch!