Tunisia is not the type of destination that pops in your mind while you're planning for a vacation. It is a beautiful yet an unknown destination to many. Tunisia got it's name from a central urban hub and it's Capital; Tunis. It doesn't matter whether you want to visit beautiful golden sand beaches or historical monuments, Tunisia has it all. Though Tunisia is not known by most people, it has a lot of history attached to it. From historical ruins to isolated islands, desert cities to beautiful beaches, Tunisia has something to offer to everyone. Through this guide, let me take you through the beauty of Tunisia that's waiting for you.
Sidi Bou Said
Sidi Bou Said is located on top of a cliff, overlooking the Mediterranean Sea. Sidi Bou Said is known for it's bright white houses with blue doors and windows. You must visit the marina in Café des Delices which offers a beautiful view of Sidi Bou Said that's definitely going to stay with you even after your trip. This is also a perfect place to get souvenirs for your friends and family as the souvenirs are not very expensive and if you buy a couple of them, you're always welcomed with discounts.
Carthage
For several years, Carthage and Rome fought for their right on Mediterranean sea, and in 147 BC Romans managed to take over Carthage and destroy the beautiful city. It was later reconstructed by the locals, and you can still witness the archaeological ruins of this city. Mostly there are theaters for art lovers, huge villas where the rich people used to live, etc. These ruins are spread over a vast area, so be aware you will have to walk a lot.
Beautiful Beaches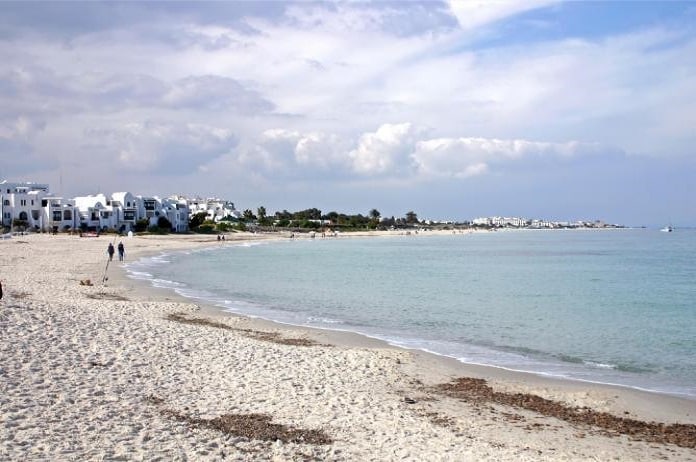 While you're in Tunisia, you must visit the beautiful yet isolated beaches. One of the best known beaches of Tunisia is in Hammamet. It is a beautiful beach with white sands and clear water. You can enjoy sun bathing, swimming in warm waters, and get yourself a perfect vacation tan. You can also witness the beauty of marine life creatures here, as this beach is considered the best among others, for underwater adventures like scuba diving and snorkeling. You can also visit Djerba and Monastir if you want to explore more beaches.
The Sahara
Sahara, the World's largest desert is stretched over ten countries, Tunisia being one of them. While you're in Tunisia, you must plan a trip to Sahara and I assure you it will be the best day of your trip to Tunisia. If you're a fan of Star Wars, you will recognize the buildings that are built especially for the series. While you can opt for off road jeep rides, it is suggested that you take camel ride to explore the beautiful desert. You may also try the stars sleepover here, where you can witness the beautiful view of millions of twinkling stars.
Local Cusines
Tunisia was ruled by many civilizations namely Romans, French, Italians, Spanish, Arabs and a couple more, as a result Tunisia has a blend of all the cuisines and if you are a food lover, you're going to fall in love with this place a little more. Tunisians cuisines offers a variety of flavors which you will remember for a long time. You are bound to get overwhelmed by the variety of food in Tunisia, but you must try Tunisian Couscous, Tunisian Salad, Kefta, Khobz Tabouna and basically just anything and everything that you can get your hands on.