What can I say about Rome that hasn't already been said? Well, Rome is Rome and there is no other place like it. Trust me when I say no amount of words can ever truly do justice to what Rome has to offer. You can "Roam around Rome" for years and you will still not be able to explore it all. Rome is a place that is already on number one on everyone's bucket list and even a hundred articles won't be enough to list everything that you can do in Rome. If you're visiting Rome for the first time then I'll suggest you to follow the lead of those who know the ropes. In other words, "When in Rome, do as the Romans do."  Without any further ado let me tell you a few of my favorite things that I love to do whenever I visit Rome, hoping that it will help you prepare your itinerary.
Colosseum
The Colosseum is the largest amphitheater ever with almost 2000 years of history. It is 188 meters in length, 156 meters in width, and 57 meters in height. I'll suggest you to take tickets for guided tour to enhance your experience. It is an epic piece of history that you must witness with your own eyes when you're in Rome. Anyway, it is not possible to miss this amphitheater as it is literally huge! It is also listed in the seven wonders of modern world. Colosseum is considered to be the main symbol of Rome and every year nearly 6 million people visit here to witness the largest amphitheater ever built. It has suffered lootings, bombing, earthquakes and what not but despite everything, Colosseum is still Rome's greatest tourist attraction.
Ancient Ruins
You can visit Palatine Hill and Roman Forum to witness the roman ruins that date back to around 500 B.C. Palatine Hill is considered to be the birthplace of the Italian capital and when you walk in, there are a hundred of ruins of buildings that were once built for the upper cast. This area is huge and you can easily spend around half a day strolling and witnessing all the preserved roman ruins. The Roman Forum, along with The Colosseum, is one of the most iconic site in Rome. It is definitely the most beautiful place in the city and there is a lot of history attached to these ruins. So, again I'll suggest you to take the guided tour to both these places so that you can listen to all the interesting stories attached to the place to further enhance your tour to these ruins.
Pantheon Dome
The Pantheon is a Christian Church for centuries. It is possible that it was turned into a church that is why it is the most well preserved ancient Roman building in Rome. The rest of the monuments were all shattered during barbarian raids but, Pantheon survived even that. The most fascinating part of The Pantheon is the giant dome which is the largest unsupported dome in the world to this date. There is not much that has been changed or renovated in this church which is why you can experience this place just the way Romans did. Another surprising fact about the Pantheon is that it is third version of this building. The first two were burned down and luckily, this one survived.
Trevi fountain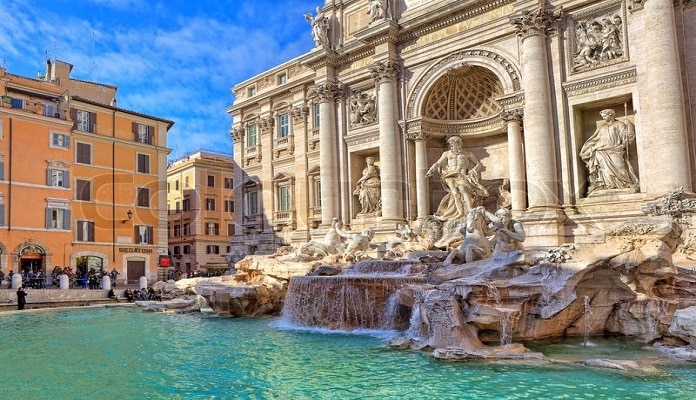 Trevi fountain is the largest and most beautiful fountain in the city. It is 20 meters in width and 26 meters in height. It dates back to ancient roman times and is named after the three adjoining streets. You must have heard about the myth of the Trevi fountain. There is a myth that if you throw one coin into the fountain, you will return back to Rome. If you throw two coins, you will fall in love with an attractive Italian and if you throw three coins, you will get to marry the person you met. Following this myth, approximately a million euros are collected from this mountain every year which are used to support good causes. So, don't forget to throw a coin or two in this fountain and you never know maybe you will fall in love with an Italian.
italian cuisines
I don't think I've ever met a person who doesn't love Italian food. It is definitely one of the most famous cuisine worldwide with a variety of dishes. Pizza is life! Like seriously! And I know you will agree with me on this one. Obviously, there are a number of different types of pizzas and pastas, but besides these, there are a lot of other traditional cuisines that you must try. A few of my favorites are Bruschetta, Panzenella, Focaccia bread, Mushroom Risotto, and a lot more. I can't get enough of Italian cuisine and I'm sure you feel the same, right? Since Rome is always filled with tourists, there are a lot of places that might serve not-so-traditional food at high prices. So, I'll suggest you to look for places where you see a lot of Italians to be sure that you get to taste actual traditional Italian cuisines.
Spanish Steps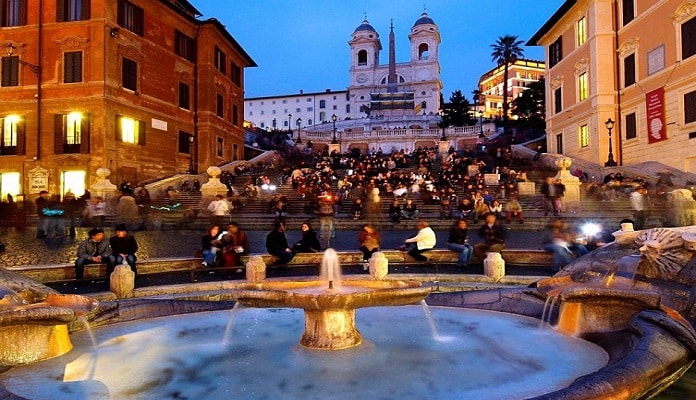 The Spanish steps were built in 1723-1725 by Francesco de Sanctis. If you want to absorb the culture of Rome to it's fullest, then you must take a stroll here. This place has inspired a lot of painters, poets and artists since the time it was constructed. Also, if you tend to get McDonalds craving just like me, then this is a must visit place for you as the first ever McDonalds was opened at the foot of these stairs on 20th March, 1986.