Is budget creating a hindrance in exploring the Barcelona? Don't worry as there are lots of things that you can do for free in Barcelona such as exploring art and culture, watching films and enjoying magic fountain show. Let's check out in detail.
1. See the museums free on Sundays
There are some museums in Barcelona that you can see for free on the first Sunday of the month after 3 pm. Go to Picasso museum for admiring the huge collection of artworks, National Museum of Art of Catalonia for Romanesque church paintings, the Museum of History of Barcelona for archaeological digs and CCCB for amazing contemporary exhibitions.
2. Discover the street art
You can discover some great art work of Barcelona's graffiti artists around the city, especially in Poblenou and El Raval. Frank Ghery's Peix, Barcelona Head designed by Roy Lichtenstein and Monument Homage to Picasso by Antoni Tàpies are some of the best examples that you can see in Barcelona.
3. Walk along the beach
If you want escape from the busy city streets, then go to the beach and get relaxed. With promenade and golden sand, Barceloneta is one of the most visited beaches in the city. Here, you can soak up in the sun, purchase handmade souvenirs or enjoy beverages at cafe and bars. For less crowded place, you can visit Icària Beach and have some peace.
4. Watch outdoor movies and documentaries for free
There are certain places in Barcelona where you can watch outdoor films for free like Cinema Lliure showing independent movies on Sant Sebastià beach two days a week i.e. on Sunday and Thursday. You should also do not miss Gandules festival at CCCB to see documentaries and short films at free of cost in its courtyard.
5. Find out the secrets of Gothic Quarter
Gothic Quarter or Barri Gotic is of great importance for history buffs. The medieval streets of Gothic Quarter will make you familiar with the rich history and culture of Barcelona. You will find many interesting things here like cursed skulls, mysterious letter boxes etc. There are also some stunning squares in Gothic Quarter that you should visit such as Plaça Sant Felip Neri and Plaça del Rei.
6. Explore Modernisme architecture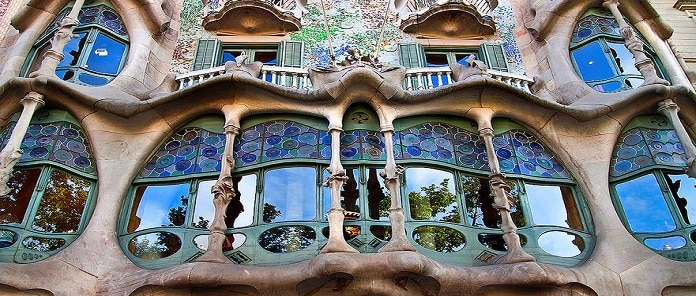 Though entry fees is required to explore most of Barcelona's architectural gems, yet there are some places where you can admire the architectural work such as La Sagrada Família cathedral, Gaudí's Casa Batlló and the Casa Lleó Morera. Thus, Barcelona is a perfect place for architecture lovers.
7. Enjoy magic fountain show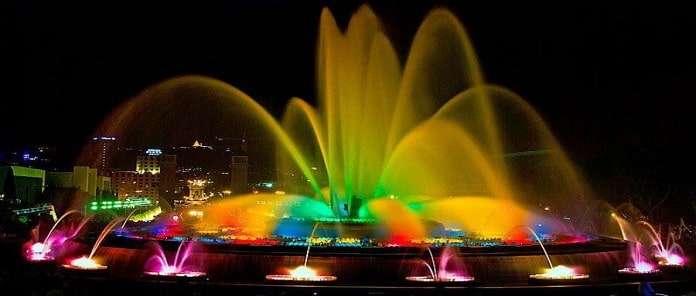 Situated at Avinguda Maria Cristina, The Magic Fountain of Montjuïc is a beautiful display of water, lights, music and sounds. Approximately 2600 litres of water is pumped out per second through this magnificent fountain. The most interesting part is that recycled water is used in fountains instead of ordinary water in order to save drinking water. The timings of this fountain show varies with season, so you should confirm it before going.