Spanish food is a mix of love and spice. This makes the food so appealing and hearty that the tourists must not miss it. You will discover here very tasty meal options that contain a lot of different flavors but is not over-the-top spicy. A significant part of Spanish cuisine is seafood, owing to Spain's physical proximity to the Mediterranean Sea.
Do you too want to try food in this country? Then here is a list of 6 items that you must try before you leave.
Best Foods in Spain You Should Try
1. Pisto
A lot of different vegetables are mixed to create a powerful steaming mix that is sparked by brown sugar, tomato, and garlic. The stew is thick with vegetables and fragrant. It is healthy and delicious to the core so you must try it when you are here. If you are at the right place, the plate would also come decorated with a fried egg on top. Enjoy!
2. Gazpacho
The soup is smooth and saucy as it is first prepared from the ripest lot of tomatoes in olive oil, garlic, and pepper. It is made so smooth that it is often served cold in glasses in summer! If you have had such hot gravies before, this would be surprising. But boy it is so damn tasty. You can have the hot one served in a bowl, garnished well.
3. Fabada Asturiana
White beans come swimming in a thick red soup. Healthy, nourishing, filling, heartening, and loved throughout the seasons, the locals like to be served especially when they are sick. It comes with its twists. It is often decorated with bacon bits and boiled together with solid cuts of sausages. Gorgeous!
4. Pollo al Ajillo
The Spanish love their chicken, not nuggets but garlicy. The juiciest cuts of chicken are cooked in cold-pressed olive oil flavored with, well, a lot of garlic until some burns become visible. Then go the white wine, sherry, bay leaves, broth, and many other things leaving the chicken moist but colored in its char. It is a great lunch or dinner meal that each one of your travel mates will appreciate.
5. Tortilla Espanola
Ever had an omelet? Of course, you must at least of heard of it. They are a superfood eaten during the day. They are lovely egg bites that are eaten throughout the world with variations and twists. Tortilla Espanola is another such version wherein there is a kick of the most loved veggies of all time: potatoes and onions. Enjoy with apple juice or white wine, depending on your mood!
6. Churros con Chocolate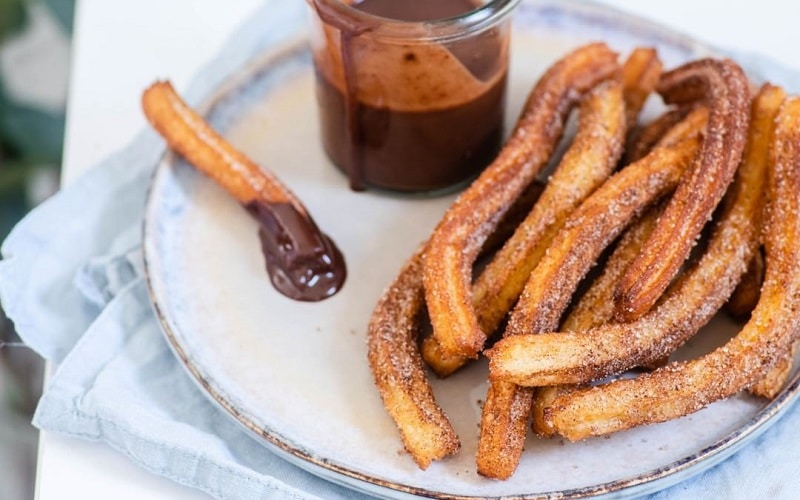 A sweet snack favorite of every Spanish man, this dessert reaches every corner of the heart.
Churros are long crunchy bites of sugared flour that are generously rolled in granulated sugar before being served. They are fun to eat individually, yes, but the magical element lies in the hot chocolate served alongside churros. It is also enjoyed on cold days, when you are craving something sweet, this can come in handy to alleviate your mood and warm you up!
Read More on Traveling around Barcelona, Spain
A vibrant culture is seen with a myriad of delectably dense food options. The dishes, as you can see, are not simple. You see little spice, some natural sweetness, garlic, deep colors, burns, and chars on your platter. Not to forget the heavy influence of olive oil, the panacea to all problems, and the celebrative tomatoes that create love in their food. The cooking has had a Mexican influence too, which is why tortilla is an essential part of Spanish meals.
If you want to have a great travelogue, don't miss out on these things!