"Bon Appetit!"  You may have heard a lot about it. But from where does it come? It came from France and the capital city of Paris. Paris is widely known for its culinary experiences. It is rich in diverse culture, music, tradition, and delight food.
Paris has preserved its rich food heritage for a long time. People from all over the world are rich fans of the cuisine served in Paris. You can stroll down the colorful streets of Paris and catch the astonishing night views of the Eiffel Tower, but what makes your trip worthy is food.
There are various options that you can try, including local as well as traditional cuisines. It has a diverse range of cuisines, meticulous presentation, artistic presentations, and mouth-watering food. Ratatouille, crepes, tarte tatin, croque monsieur and croque monsieur, chocolates, café au lait, and pain au chocolat are the most famous.
Here are the six amazing cuisines that you must try on!
1. Croissants: Pocket-Friendly Yet Delightful
The perfect blend of taste and texture. When you are in Paris, don't forget to try the best dish: croissants. Start your day with an amazing flaky, buttery, and delicious croissant and a cup of coffee. You can try croissants at La Maison d'Isabelle (47ter Boulevard Saint-Germain), which has received an award for the Best Croissant in Paris.
2. Escargots: Appetizing Cuisine
LEscargot Montorgueil is a true Parisian institution that is widely famous for escargots. Try the snails tossed in buttery texture and parsley. Different restaurants in Paris serve them in different ways. You can try them with sauces, truffles, or Roquefort.
3. Macarons: Flavorsome Delicacy
They are small, bite-sized delicacies made with almond flour and a yummy filling inside. You can try a variety of flavors, including raspberry, apple, chocolate, vanilla, pistachio, and a lot more.Nobody exactly knew of their existence, but they are the delicious sweets present in Paris. Colorful shells made with crispy interiors and soft insides are appetizing.
4. Jambon-beurre: Paris Street Food
It is a widely famous three-ingredient street food in Paris. It consists of ham, butter, and baguette. Choose the finest ham to experience the luscious Jambon Beurre. Some restaurants even give it a creative twist by adding tomatoes, cheese, lettuce, and other favorite additions. It is simple yet delicious food. You can easily find this staple across France. Simple yet fulfilling and appetizing food that you can binge on
5. Onion Soup: Delicious Comfort Food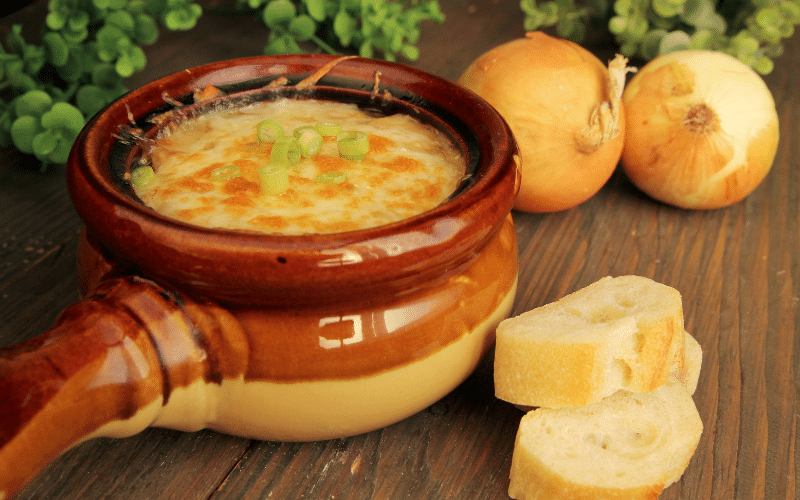 French Onion Soup, known as "Soupe à l'Oignon" in French is a simple, delicious, and comforting food for the French. It has a rich, sweet flavor with a cheesy topping. It has key ingredients: onion, herbs, seasoning, broth, wine, bread, and cheese. It is a comforting yet fulfilling food. It is easily prepared with fewer ingredients.
6. Crepes: Extraordinary Delight
They are another astonishing yet delicious cuisine on the streets of Paris. They are the pancakes served with banana, Nutella, and chocolate. It is of two types: sweet and salty. The sweet ones are usually served with fruits, cream, ice cream, and chocolate, while the salty ones are served with meat, veggies, and cheese. They are easily available and are the perfect go-to breakfast when you are in a rush.
7. Gelato: The Heart of Paris
Gelato is a unique traditional Italian dessert with different tastes and textures. It consists of a variety of flavors of ice cream in a rose petal shape. With an outstanding presentation and mouthwatering taste, you can never go wrong with gelato.  It is made up of fresh and high-quality ingredients like milk, flavorings, and sugar. You can try gelato in different flavors, including chocolate, vanilla, rose, and a lot more.
Also Read: Edinburgh Unveiled: Must-See Destinations in Scotland's Capital
Conclusion
There is no doubt that Paris is a magical place when it comes to history, art, music, or cuisine. There are plenty of other options, such as BOEUF BOURGUIGNON, BOUCHÉES À LA REINE, CASSOULET, FOIE GRAS, SALADE NIOISE, SOUFFLÉ, STEAK FRITES, and a lot more. There is always a chance to experiment with the cuisine according to your taste buds. Even if it is a romantic date or a business meeting, food is the heart of the city of Paris. People preserve the rich culture and present it in modern artistic ways.
 Choose the best dishes and make your trip a memoir!