The number of options can be overwhelming. And adding to the difficulty of making a confident choice, the landscape is in constant flux, with once-trusted names falling by the wayside as shiny new upstarts bring more robust technology and better user interfaces to the space. The result is a compilation of booking sites that includes some of the old standbys but also some sites that many travelers will be hearing about for the first time.
1. Priceline.com

Priceline is a full-service travel site that lets you book hotels, flights, rental cars and cruises. Besides William Shatner, Priceline's claim to fame is a variety of unique discount programs. While you can score some serious deals with these features, read the fine print to avoid any snags along the way. To make these features work for everyone, Priceline has lots of policies and qualifications that may have repercussions later.
If you're more interested in saving money on a hotel room than in whether your room has certain amenities, then Priceline is a good way for you to book hotels, as it guarantees good discounts with some sacrifices on hotel details.
2. orbitz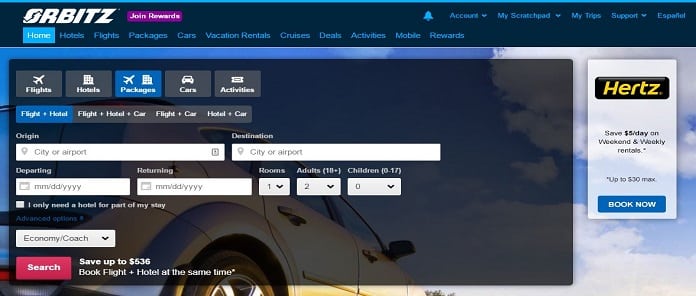 Online travel agencies like Orbitz work directly with hotels, airlines and other businesses in the travel industry to provide bookings for all kinds of flights and accommodations. This results in piles of potential travel options to choose from. The best travel sites provide plenty of filters to narrow your search to the best option, and Orbitz is no exception. Orbitz lets you filter flights by the amount of stops, departure and arrival times, flight class, and flexible days.
The flexible date search is one of our favorite features of Orbitz. Instead of searching for flights on an exact day, flexible search looks for tickets within three days before or after your preferred date. This is a great tool if you're simply looking for a getaway or searching for the best price on reservations months in advance. Each flight listing shows a complete itinerary, including transfer locations, time, terminal and the duration of your layover. If you're planning a long international flight, Orbitz lets you know if you'll be arriving a day or two days later than your departure.
3. Booking.com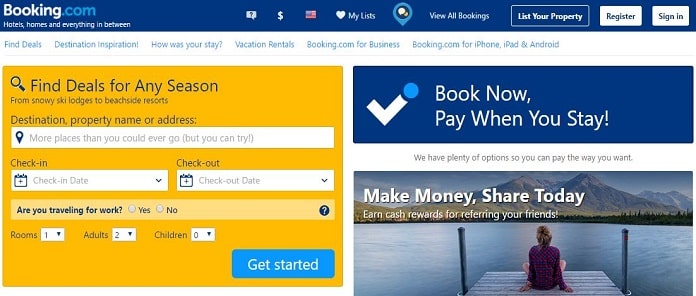 Booking.com scored the best in terms of overall customer satisfaction. They received above-average ratings in all categories — the only company in the study to do so — and customers particularly appreciated Booking.com's clean website layout and intuitive booking process. The wide variety of travel accommodations available and the detailed information about each property also left a good impression on those who visited the website. These may seem like relatively insignificant details, but they make a big difference in your overall experience.
In addition to hotels, Booking.com offers deals on a number of other places to stay, including resorts, vacation rentals, and hostels. Some of these lodging options can be found on a few other travel sites, but certain types of accommodations like bed and breakfasts and homestays are a little harder to come by on most major travel booking websites. If you're interested in one of these alternative travel accommodations, definitely explore what Booking.com has to offer because you won't be able to find a selection like this elsewhere.
4. Expedia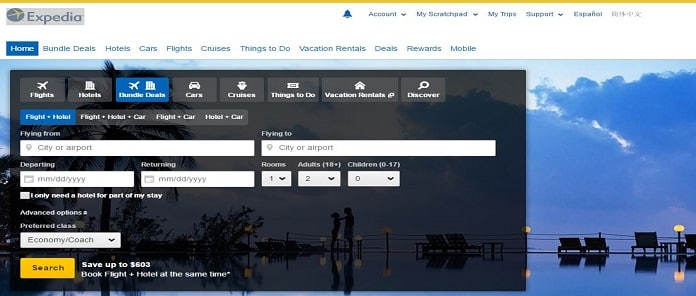 Expedia has become one of the biggest names in the industry by offering impressive discounts on all types of travel itineraries and generously rewarding their loyal customers, making them a top choice for budget travelers.
Whether you're looking for a hotel, a vacation package, or tickets to a theme park, you can find a way to save through Expedia. Customers opting for a vacation package have the choice of booking a hotel, flight, and rental car together or any combination of the three. Or, if you'd rather, conduct separate searches and bundle them together to earn big savings. Deals on cruises are also available for individuals and families planning this type of getaway. Perhaps the most unique thing about Expedia's offerings, though, is the wide selection of activities you can purchase when you book your trip. Sightseeing tours, concerts, and plays are just a few of the things offered.
Unlike the majority of travel websites, Expedia doesn't charge any fees for booking, changing, or canceling travel plans on their site. This applies to roundtrip flights, hotels, rental cars, and cruises. If at any time after booking you need to make a change to your trip itinerary, you can do so and Expedia won't charge you a penny. Considering that some companies may charge you as much as $75 for canceling your trip, this guarantee is extremely valuable. One thing to note, however, is that the airline or hotel you book with may have their own change or cancellation fees and Expedia passes these on to you. This is true of all travel booking websites, though, so you're still saving a great deal of money by going with Expedia instead of another company.
5. Agoda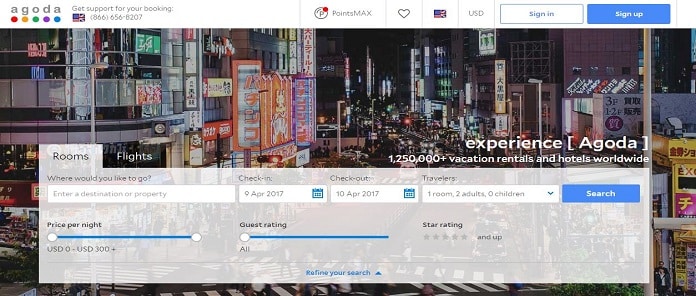 Agoda.com is a branch of the travel giant, The Priceline Group. As such, they have many resources available to travelers and clout in the industry. (The hotels which they book are not hole-in-the-wall backwoods places.) Agoda.com offers customers the convenience to book hotel rooms and to manage their reservations in one place. Agoda.com has a network to book in over 470,000 hotels worldwide.
They have a vast offering of hotels from which to choose, are backed by a leader in the travel industry. Agoda.com offers superior customer service which is available 24/7.