Earth never stops surprising us. Every corner of the planet offers some sort of natural peculiarity with an explanation that makes us wish we'd studied harder in junior high Earth science class. Some of these sites are challenging to get to; others are busy tourist destinations. They keep natural scientists searching for answers and the rest of us astounded by the secrets and mysteries the world continues to reveal.
1. Surtsey, Iceland
When people try to convince you there's nothing new under the sun, direct them to the Icelandic island of Surtsey. Before 1963, it didn't exist. Then, an underwater volcano in the Westman Islands (Vestmannaeyjar) erupted, and when the activity settled down in 1967, what remained was an island where no island had been before.
2. Submerged Wonders of Alexandria, Egypt
Waters have always preserved history. Off the shores of Alexandria, the city of Alexander the Great, lie what are believed to be the ruins of the royal quarters of Cleopatra. It is believed that earthquakes over 1,500 years ago were responsible for casting this into the sea, along with artifacts, statues and other parts of Cleopatra's palace. The city of Alexandria even plans to offer underwater tours of this wonder.
3. Eternal Flame Falls, Orchard Park, New York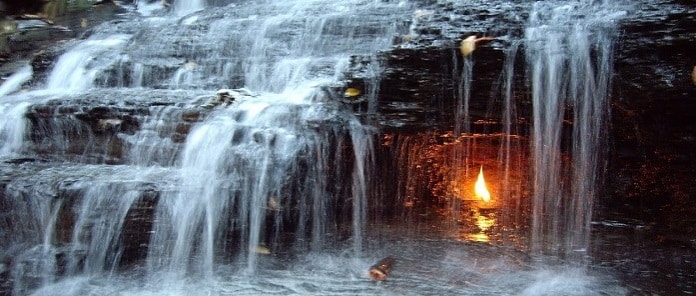 Behind the cascade of a small waterfall in the Shale Creek Preserve section of Chestnut Ridge Park in suburban Buffalo, New York, you might see what appears to be an optical illusion: a flickering golden flame. Actually, you'll smell it before you see it, and amazingly, it's real, fueled by what geologists call a macroseep of natural gas from the Earth below.
A geological fault in the shale allows about 1 kilogram of methane gas per day to escape to the surface, where, at some point, possibly the early 20th century, a visitor had the idea to set it alight. The water occasionally extinguishes the flame, but there's always another hiker with a lighter to reignite it.
4. Easter Island
One of the world's most famous yet least visited archaeological sites, Easter Island is a small, hilly, now treeless island of volcanic origin. Located in the Pacific Ocean at 27 degrees south of the equator and some 2200 miles (3600 kilometers) off the coast of Chile, it is considered to be the world's most remote inhabited island. That culture's most famous features are its enormous stone statues called moai, at least 288 of which once stood upon massive stone platforms called ahu. There are some 250 of these ahu platforms spaced approximately one half mile apart and creating an almost unbroken line around the perimeter of the island. Another 600moai statue, in various stages of completion, are scattered around the island, either in quarries or along ancient roads between the quarries and the coastal areas where the statues were most often erected. Nobody knows about the kind of civilization that inhabited this place.
5. Pripyat, Ukraine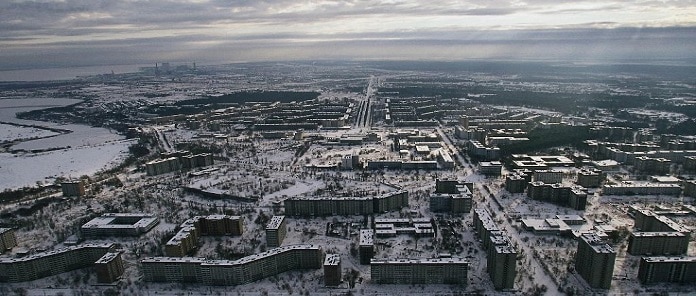 Pripyat, a city of nearly 50,000, was totally abandoned after the nearby Chernobyl nuclear disaster in 1986. Due to radiation, it has been left untouched ever since the incident and will be for many thousands of years into the future. Nature now rules the city.
6. Hashima Island, Japan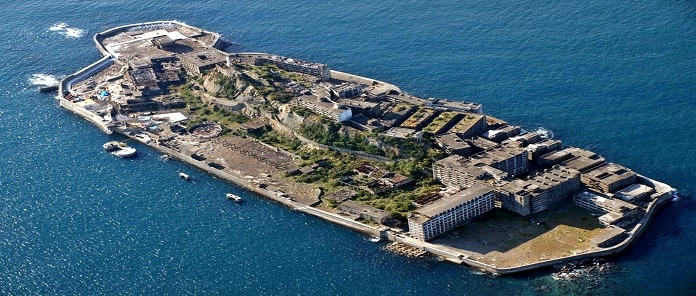 Hashima island in Japan has a wide array of nicknames, including Battelship Island (for its shape) and Ghost Island. From the late 1800s to late 1900s, the island was populated because of the access it granted to undersea coal mines. However, as Japan gradually switched from coal to petroleum, the mines (and the buildings that sprung up around them to support their workers) closed down, leaving an isolated ghost town that reminds some of a ghostly concrete battleship.
7. Pamukkale, Turkey
What appears to be a Doctor Zhivago-style snowy landscape in southwestern Turkey is actually the result of calcium carbonate deposits from 17 natural hot springs accumulating over thousands of years. Beginning in the late second century B.C., this area near present-day Denizli was a destination for those who sought the therapeutic benefits of the mineral-rich water whose temperature reaches upward of 100 degrees Fahrenheit.
Today, you can see remnants of the baths at the ancient holy city of Hierapolis, but it's the stunning terraces, cliffs and petrified white waterfalls of Pamukkale — Turkish for "Cotton Palace" — that give it remarkable natural beauty.
8. Moeraki Boulders, New Zealand
Large spherical boulders — some measuring 12 feet in circumference — are scattered on Koekohe Beach on the east coast of New Zealand's South Island. They formed millions of years ago on the ancient sea floor, collecting and hardening sediment and minerals around a core such as a fossil or a shell similar to the way oysters form pearls.
They're not the world's only examples of what geologists call septarian concretions. You can also visit the Koutu Boulders near Hokianga Harbour on the northwestern coast of New Zealand's North Island, for example. Yet the Moeraki Boulders are some of the world's largest. The particulars of their origin and what caused the distinctive cracks inside them are still being studied.
9. Island in Southwest Florida, U.S.A
These small domed structures were built in 1981 on Cape Romano off the coast of Florida in the U.S. They were the summer home of oil producer Bob Lee before falling into disrepair. What their fate will be today is still uncertain.
10. Monumental Instructions for the Post-Apocalypse
Located in Georgia, the 'Georgia Guidestones' is a stone structure of five 16-feet-tall, 20-ton slabs of polished granite and is inscribed in eight languages including Egyptian Hieroglyphics, Hindi and Swahili with instructions for dazed post-apocalyptic survivors attempting to rebuild civilization. It's oriented to track the sun's east-west migration year-round, and has holes that allow gazers to locate the North Star. The Georgia Guidestones were commissioned by an anonymous group, whose identity remains a mystery.