Thailand has such an amazing landscape along with stunning beaches. These beaches are picture perfect and look wonderful. You can be in this alluring country and have a great time in the tropical environment enjoying the coastline. You must be familiar with the names such as Phuket, Hua hin and so many more. These areas are well known among tourists. Krabi is no different than them. This province has an amazing coastline and a lot of beaches where you can get to see palm shores and coral reefs, a cool tropical aura surrounding you. You can play different water sports here and can have a relaxing time at the beach. The natural beauty of the sea is alluring and something that attracts visitors.
Beaches in Krabi that you must see
1: Railay Beach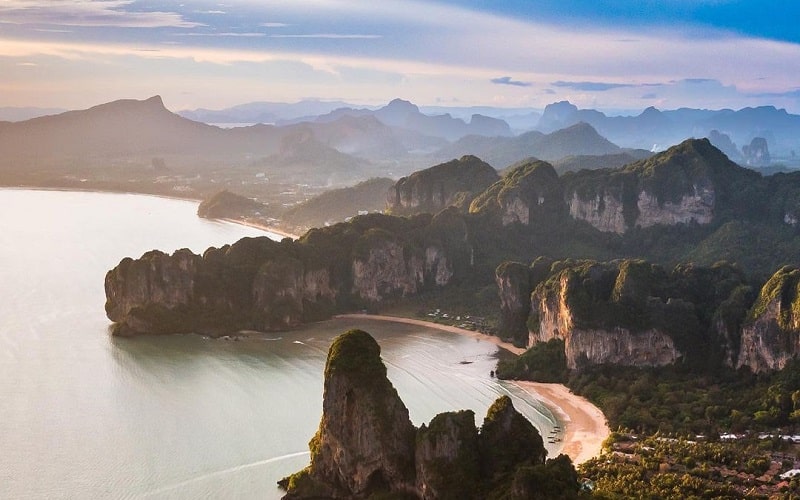 If you want to be at a beach just a soothing and alluring place then this is the beach for you. Here you can enjoy the sun and can also enjoy the tropical scenery. Not only that this is the place for rock climbers. There are several cliffs that you can use to climb and have an adventurous time here. This beach also has beautiful restaurants, stays, cafes, and hotels. You can book a stay here and enjoy the view of the beach and the amazing forest around.
2: Phra Nang Beach
Phra Nang Beach is near Railay beach. This beach has stunning white sand and mesmerizing waters. This is a wonderful place where you can rock climb on those cliffs and where you can enjoy the water body by snorkeling and swimming. Not only the water activities, but you can also get here to enjoy the rainforest and explore it. There are trekking activities here for you as well. Along with these activities and enjoying the water and rainforests, you can just stay here and enjoy the tropical area in soothing comfort.
3: Koh Mai Phai
Do you want to have a simple and soothing time with just nature around? You can get that when you get to Koh Mai Phai. this is an island with no hotels or restaurants and is a place where people such as backpackers and campers like to visit. This is a tiny island with a small crowd thus making it ideal to camp and enjoy the nature around. This place also has some beautiful corals here, thus you should bring with you, your snorkeling equipment if possible.
4: Tub Kaek Beach
This is a cute and peaceful island that you can visit in Krabi. This island is surrounded by blue water and beautiful tiny crabs around on the sand. Being peaceful means no sound of skis or boats and having a nice area to swim and enjoy. You can also trail around and explore the land. Do not worry, there are several hotels and resorts that can provide you with a nice place to stay and some restaurants for amazing food. Enjoy your meals with tropical views around.
5: Koh Poda Beach
If you are a fan of kayaks and snorkeling then this is the beach for you. This is a beautiful and serene beach with not many shops or restaurants and thus has a very calm and unspoiled vibe to it. You need to get your own equipment if you want to snorkel or kayak here. This beach has a calming aura to it and you can enjoy your time relaxing here.
Read More on Witness the exciting Festivals in Thailand
You need to look for the best months when you can enjoy the most of these beaches and then plan your trip. You need to get here and enjoy the wonderful beauty of the beaches, the white sand, and the blue waters. You can make your trip adventurous by taking part in several water activities and beach games. The beaches mentioned in the list are just some of the many beautiful beaches here in Krabi and you must take your time and visit as many as you can to get the best out of your trip. The palm trees add to the whole environment and make the place look a lot better. There is a lot you can do on these beaches and have a great and memorable trip here.