When it comes to experiencing the magic of Paris, the city of love, it's not just about iconic landmarks like the Eiffel Tower or the Louvre Museum. To truly immerse yourself in the Parisian atmosphere, you need the perfect home away from home. Paris is known for its boutique hotels and hidden gems that offer a personalized and intimate experience in this enchanting city. In this article, we will explore the allure of boutique hotels in Paris, highlighting six key points that make them a unique and unforgettable choice for your stay.
Explore these Boutique Hotels in Paris
1. Le Pavillon de la Reine: A Hidden Gem in the Marais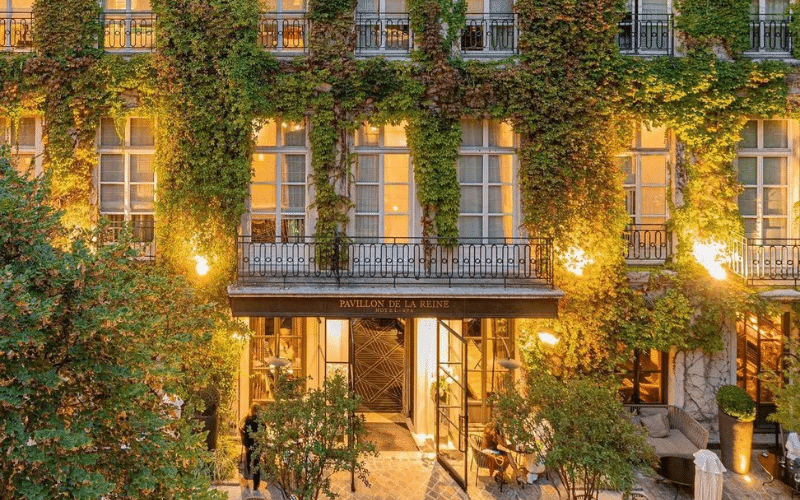 Le Pavillon de la Reine, located in the ancient Marais area, is a truly hidden gem. This 5-star boutique hotel provides an oasis of calm in the heart of Paris's bustling streets. The hotel is named after Queen Anne of Austria, who stayed here in the 17th century, and its beautiful 17th-century building emanates timeless appeal. This hotel combines historical value with modern comfort, with 56 individually decorated rooms and suites, a private courtyard garden, and a nice lounge with a fireplace. Guests at Le Pavillon de la Reine can immerse themselves in the Marais' rich heritage while staying in a personalized and intimate setting.
2. Hotel Verneuil: A Literary Haven in Saint-Germain-des-Prés
Le Roch Hotel & Spa, located in the 1st arrondissement, offers a modern perspective on luxury. This exquisite boutique hotel combines modern style with French art de vivre. It's a refuge of luxury and relaxation, with 37 rooms and suites, a serene garden, and a Michelin-starred restaurant. Because of its central location, you can walk to the Louvre Museum and other famous attractions. Le Roch Hotel & Spa is a great setting for art enthusiasts as well as those looking for a chic urban hideaway in the center of Paris.
3. Le Roch Hotel & Spa: Contemporary Luxury Near the Louvre
Le Roch Hotel & Spa, situated in the 1st arrondissement, offers a contemporary take on luxury. This boutique hotel is an elegant blend of modern design and French art de vivre. With 37 rooms and suites, a tranquil garden, and a Michelin-starred restaurant, it's a haven of sophistication and relaxation. Its central location places you within walking distance of the Louvre Museum and other iconic landmarks. Le Roch Hotel & Spa provides an ideal backdrop for both art lovers and those seeking a stylish urban retreat in the heart of Paris.
4. La Maison Favart: A Theatrical Stay in Opera
La Maison Favart introduces visitors to the magical realm of the theater. This boutique hotel in the Opera district is named after the legendary French opera pair Charles Simon Favart and Justine Duronceray and embraces the art of drama and performance. The 39 apartments are elegantly designed, with soft curtains and theatrical touches. The hotel also has a charming garden and a spa, offering a delightful escape from the city's buzz. Staying at La Maison Favart means living in a world of artistic inspiration, with the Opera Garnier and Palais-Royal just a short stroll away.
5. Hotel Particulier Montmartre: A Secret Garden in Montmartre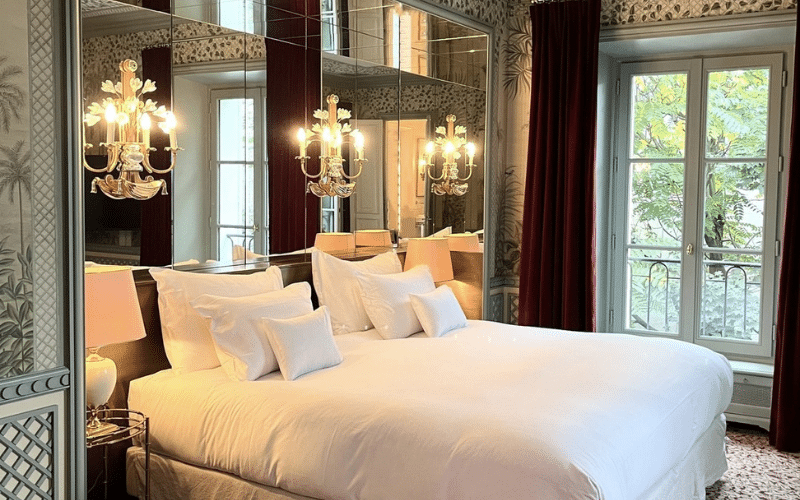 Perched atop the artistic hill of Montmartre, Hotel Particulier Montmartre is a true hidden gem. This boutique hotel is housed in a historic townhouse and surrounded by a lush, private garden. With just five suites, it offers an unparalleled level of exclusivity and intimacy. The decor is a fusion of contemporary design and bohemian flair. Guests can enjoy the tranquility of the garden, dine in the hotel's restaurant, and soak in the breathtaking views of Montmartre. Hotel Particulier Montmartre provides a serene and picturesque escape in one of Paris' most artistic neighborhoods.
6. Le Cinq Codet: Modern Elegance Near the Eiffel Tower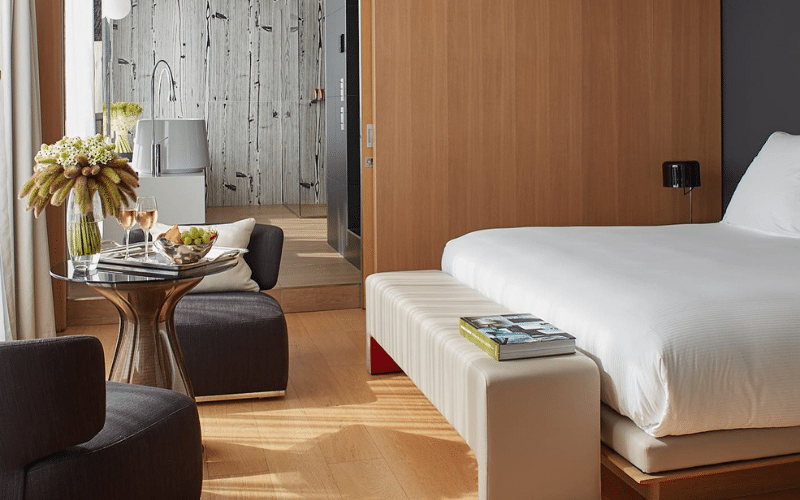 Le Cinq Codet is a beautiful boutique hotel in the 7th arrondissement, close to the Eiffel Tower. This contemporary and art deco-inspired hotel is built in a former France Télécom building. Its 67 rooms and suites combine comfort and elegance, with some even featuring private patios with breathtaking views of the Eiffel Tower. The hotel's restaurant and bar are gastronomic destinations in and of themselves, serving modern French cuisine. Staying at Le Cinq Codet gives you access to the elegance of the Eiffel Tower as well as the classic monuments of the 7th arrondissement.
Also Read: CUISINES TO TRY WHEN YOU ARE IN PARIS
Bottom Line
In conclusion, boutique hotels in Paris are a true embodiment of the city's romantic and artistic spirit. They offer an intimate and personalized experience, distinctive design, exceptional dining, central locations, personalized service, and a haven of tranquility. Choosing to stay in a boutique hotel in Paris isn't just about accommodation; it's about immersing yourself in the soul of the city, and creating memories that will last a lifetime. So, when planning your next visit to the City of Love, consider the charm and allure of these unique establishments for a truly authentic Parisian experience.