Embarking on a camping adventure is a thrilling experience that allows individuals to immerse themselves in the beauty of nature and escape the chaos of everyday life. Whether you're a seasoned camper or a beginner, having a few essential tips and tricks up your sleeve can make all the difference in ensuring a successful and enjoyable trip. From selecting the right tent to packing strategically and practicing Leave No Trace principles, these tips will enhance your camping experience. You will be thrilled and equally impresses by the experience you are going to gain on the camping.
Camping Advice For You
So, get ready to explore the great outdoors, disconnect from technology, and embrace the simplicity of life under the stars with these must-know camping tips and tricks.
Choose the Right Tent
The foundation of a successful camping trip begins with the right tent. When selecting a tent, consider the size and weather conditions of your camping destination. opt for a tent that provides ample space for everyone and is designed to withstand the elements. Additionally, practice setting up your tent before your trip to ensure a hassle-free experience at the campsite. Carry extra blankets for any case of emergency and try investing in good quality sleep bags so that you can get a good sleep at night and you can enjoy your camping without any headaches.
Pack Strategically
When it comes to camping, packing smartly is key. Make a checklist of essential items such as camping gear, cooking utensils, sleeping bags, and clothing. Prioritize lightweight and versatile items to maximize space in your backpack. It's also important to pack appropriate clothing for various weather conditions, including rain gear and extra layers to stay warm during chilly nights. Also, pack other essential items like mobile chargers, torch lights, and most important sunscreen, so that you do not have to suffer from dead batteries, dark forests, and sunburns. It is all up to you to get the best and most important things to pack for your trip.
Prepare Easy Meals
Cooking while camping can be an enjoyable experience if you plan your meals in advance. opt for easy-to-make and delicious camping recipes that require minimal ingredients and preparation time. Pre-cut vegetables and marinate meats at home to save time at the campsite. Also, consider using camping stoves or portable grills for convenient cooking, and don't forget to bring reusable utensils and plates to minimize waste. You can also keep a cool box in your vehicle so that you can keep all your meals and other drinks and snacks in the box to avoid excess wastage of food.
Stay Organized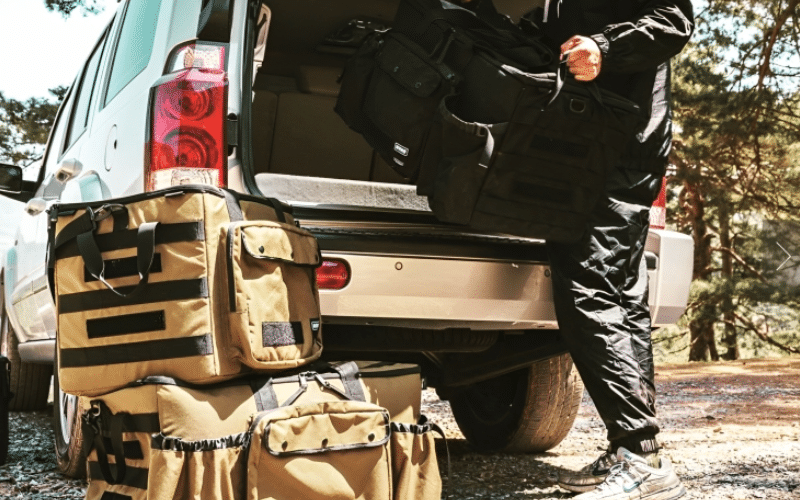 Maintaining a well-organized campsite can make your camping experience more enjoyable. Use storage containers or waterproof bags to keep your belongings neatly arranged and protected from the elements. Assign specific areas for cooking, dining, and sleeping to establish a sense of order and convenience. Additionally, keep a checklist of your gear and belongings to avoid leaving anything behind when packing up. Try not to pack a lot of things which further will make you uncomfortable while moving from one place to another.
Leave No Trace
One of the most important aspects of camping is practicing Leave No Trace principles. Respect nature and preserve the beauty of your campsite by cleaning up after yourself. Dispose of trash properly, use designated fire pits or stoves, and avoid damaging vegetation. Remember that you are a visitor in nature's home, and it's crucial to leave it as pristine as you found it for future campers to enjoy. Take disposable containers with you to dispose of the trash and garbage that has been collected during the stay.
Bottom Line
In conclusion, armed with these essential camping tips and tricks, you are well-equipped to embark on a memorable outdoor adventure. By choosing the right tent, packing strategically, preparing easy meals, staying organized, and practicing Leave No Trace principles, you can ensure a comfortable and enjoyable camping experience. Remember, camping is not just about connecting with nature, but also about disconnecting from the noise and distractions of everyday life. So, take the opportunity to recharge your soul, bond with loved ones, and create lifelong memories amidst the tranquility of the wilderness. Embrace the simplicity, embrace the beauty, and embrace the magic of camping. Happy trails!!