Romanian cuisines are a careful curation of Black Sea flavors from west Asia and Russia with a rhythmic ethnic touch. The dishes are overwhelmingly rich with love and compassion and comforting otherwise. The bold flavors are not inculcated like the overall European cuisine. The energy is diverted elsewhere to play with interesting elements that are picked from cuisines of other nations like Turkey, Italy, and Hungary. If you synthesize with the idea of exploring the palatable side of the place you are visiting, Romania can bring in a lot of surprises for you.
Cuisine choices you really must taste while visiting Romania
1. Cheese Pie
This cult-favorite sweet and savory is a pastry delight. With creamy cheese curds flavored with dill on the inside giving a sweet gooey texture, the outside is a crunch-filled pastry with eggs and salted butter, giving the pie some salty effect. The pie can come in as concentrated with a sugary filling or a combination of feta cheese and spinach can be well-loved. Choose your weapons wisely! Both ways, they are great satiety favors one could ask for.
2. Sarmale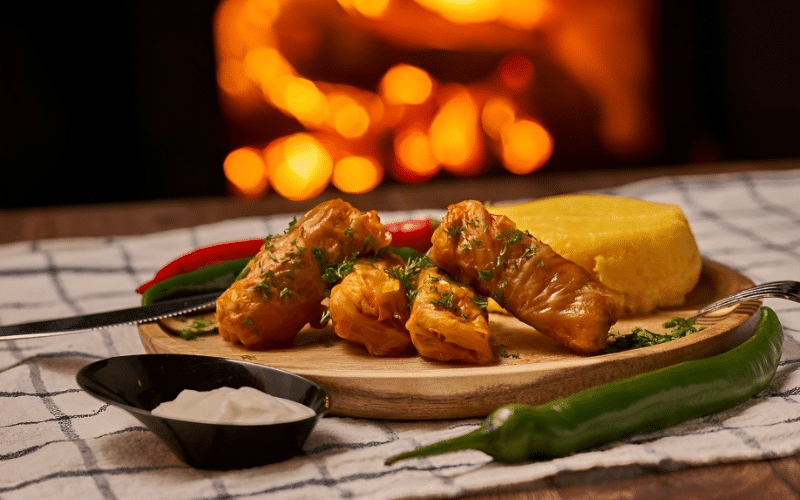 These cabbage rolls have been echoing in the region for quite a long time and many have grown up addicted to them. Other variations might include grape leaves containing veggies and rice with meat. However, for a factual basis, the original ingredients are the same, just the rolls being more bright and hued. The pork meat is perfectly mixed with onions, tomato paste, rice, and herbs and packed wonderfully in cabbage leaves. The rolls are brought back to life when simmered in tomato gravy.
3. Zacusca
This tasty dip idea has a very Asian touch to eat. If you have explored Asian cuisine, such veggie dips are all over the continent. Not only it is pure but also perfectly entices your tastebuds. The roasted eggplant is smashed well with equally charred sweet red bell peppers which gives the dish its deep color. The dish is spiced with red jalapenos, garlic, and red onions offering a bunch of strong and promising flavors when spread on bread slices.
4. Tripe Soup
Like many rich shorbas from Asia, this soup is also based on meat. Here, the tripe of beef and shank are used. Together with garlic, bay leaves, carrots, and onions, the meat is boiled. The veggies are blended into a clear smooth texture and the meat is added. The story doesn't end here. Beaten eggs now come to action to make them more rich and fill in more nutrients. They won't be as distinguished but still do their job. It can be an effective stress buster for your tired self.
5. Cozonac
Just like any other sweet pastry, this bread is also made lovingly to suit the vibe of festivities. Enriched with cocoa, eggs, butter, and walnuts, this sweet friend is valued for its fluffy and soft texture and shine on the outside. The dough is filled with chocolate and dry fruit mix and then folded and made into a roll. What makes it a Christmas favorite is its visual appeal as you see two rolls twisted together and glazing red in butter and eggs. Just the right snack for the untamed you!
Also Read: Dishes you should try in Argentina
Bottom Line
The flavorful bites from these dishes would deprive you of your senses and bring a lot of joy to you. The dishes are blended to suit the Romanian tastebud that prefers simplicity and a homely feel and blended with unique flavorings that baffle you. Also, the thing with Romanian foods is their aesthetic appeal which is why the dishes come in so presentable. Why not? The presentation enhances the appeal!