This time we brought you a range of hotels for tourists and business travelers, all of which have opened recently in different parts of the world. This is a dynamic and colorful collection of some of the most forward-looking and inspiring designs in the world.
1. Inntel Amsterdam Zaandamn, Amsterdam, Netherlands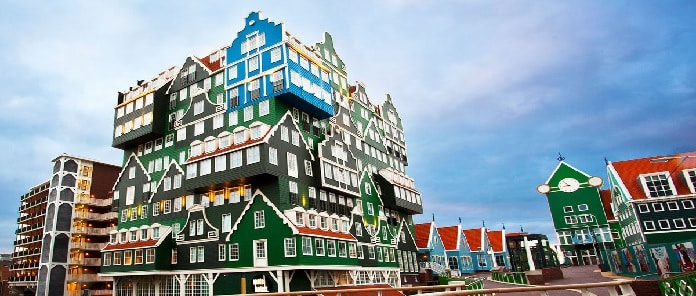 This brightly coloured hotel is made up of 70 stacked houses with gorgeous views over the canal. The rooms are modern and chic with local themed decor and the hotel boasts a suspended restaurant terrace over the canal, a spa and an indoor gym.
Every morning a lavish breakfast buffet is served at Restaurant Puur Saen. In the evenings, you can enjoy an extensive dinner or have some drinks at the bar or at the sunny terrace.
2. The Balancing Barn, England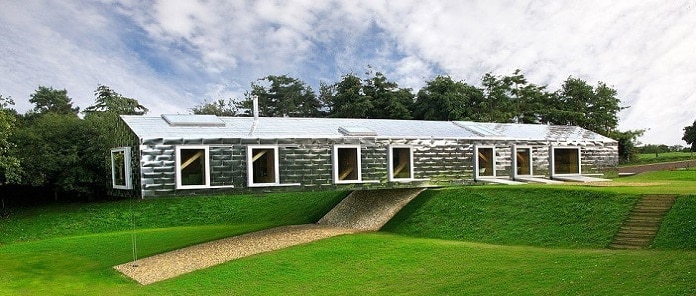 On the edge of the national reserve, this unique unusual hotel is seemingly suspended impossibly in the air, looking like it's about to tip over. Surprisingly, this small beautiful hotel that can only house eight people, has won several design and travel awards.
3. Kakslauttanen Hotel, Saariselkä, Finland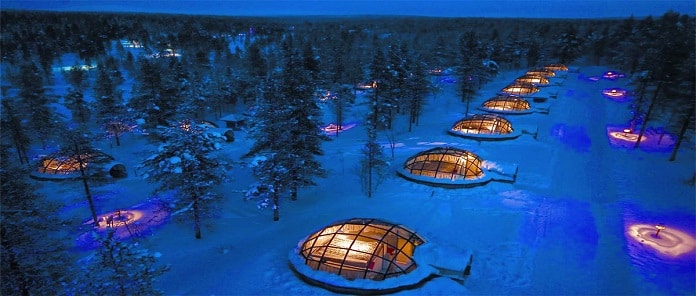 At Kakslauttanen Hotel, guests can admire the northern lights and twinkling sky in a glass igloo. The cosy igloos include a toilet and a shower (4-person igloo only). The thermal glass igloos feature a bedroom with a glass roof and luxury beds.
Husky and reindeer safaris can be arranged, and snowmobiling is also possible. Guests can also rent cross-country skis, Nordic walking sticks and snow shoes.
Visitors can book the glass igloos throughout the northern lights season, from end August until end April.
4. Huilo Huilo Montana Magica Lodge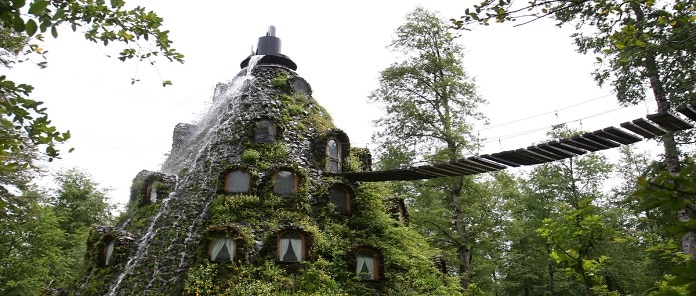 Staying at The Magic Mountain will certainly make you one with nature. Set in the midst of the Chilian Patagonian Rainforest, this cone shaped hotel reminds us of the hobbit house blended into nature with little rounded windows peeping out amoungst vines and moss. The hotel is covered by vegetation has a waterfall which cascades from the roof and a rope bridge is the only way in and out.
The cosy rooms here have wooden interiors and boast a private bathroom and garden views. A daily breakfast is included.
At Montaña Mágica Lodge guests will find a restaurant, meeting facilities, a games room and a ticket service. An array of activities can be enjoyed on site or in the surroundings, including skiing, cycling and horseback riding.
5. The Floating Seahorse, Dubai, UAE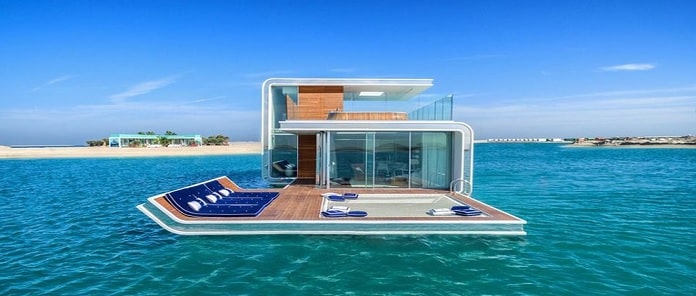 Dubai has never been…shall we say,understated: The city sports indoor ski-slopes, the world's largest shopping mall and tallest building, manmade islands in the shape of palm trees, and people in jetpacks zooming over the futuristic skyline.
The villas come equipped with Wi-Fi, a television, and a butler service, and 90 of the buildings will be connected to the heart-shaped St. Petersburg Island.
6. Dream Cave Hotel, Cappadocia, Turkey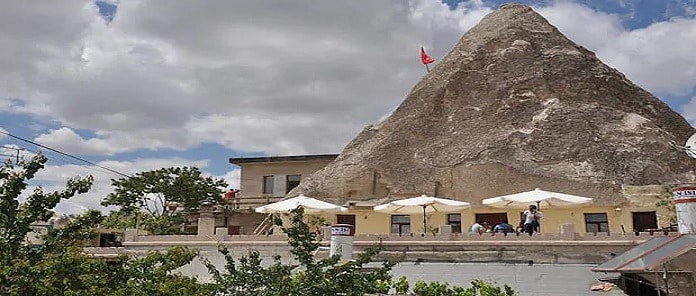 Built in a Cappadocian rock formation, Dream Cave Hotel Provides guests a chance to stay in a true stone house. Visitors have a choice between staying in a stone-made house and a cave house. Bus stops are only a 5-minute walk away and the hotel even offers car and bicycle rentals. The Dream Cave Hotel brings you close to nature, particularly Goreme's fairy chimneys. Traditional Turkish home items complement the ethnic flavor of this place.
A restaurant located at the rooftop terrace offers a traditional Turkish buffet. There is also a bar that provides refreshing drinks for guests and on this same terrace, you can have an unrestricted view of the Goreme skyline. As for the rooms, they are remarkably cozy, even during the cold months of the year. There is not much difference between the cave and non-cave rooms as both are remarkably comfortable. Each of the rooms comes complete with all the necessary features, and should help you get a great night's sleep.
7. Free Spirit Spheres, Vancouver Island, Canada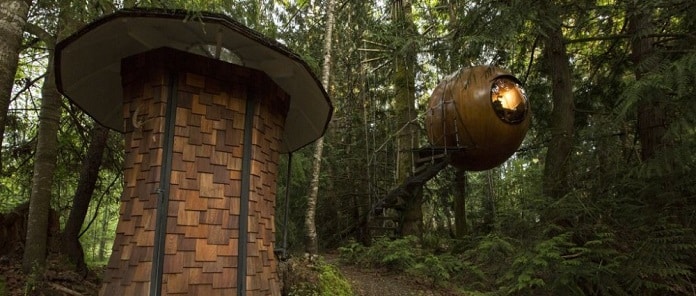 This tree house hotel in a rain forest on British Columbia's Vancouver Island.NIts driveway runs a short distance through maples, Western red cedars and Douglas firs to a five-acre tract where there's a gong to summon the keepers of the sanctuary from a nearby house. And then you see them in the trees: three large wooden globes suspended about five metres off the ground and named Eve, and Melody. A fourth, Gwynn, serves as an office.
Inside sphere, a basket of various breads, granola bars and pastries, along with purified water and the makings for tea and coffee. That provides two breakfasts for each of us. A few feets away from the spheres is a barbecue and a tiny kitchen, with microwave and sink, where guests can prepare other meals. There also is a shaded veranda, complete with flower baskets and handmade furniture, on which to picnic. A tiny sauna just off the kitchen, and more sumptuous bathrooms are in the bathhouse adjoining it. Thoughtful touches are everywhere, such as lush, hotel-style bathrobes and umbrellas positioned next to the bathrooms. The area can be quite rainy.
8. Propeller Island City Lodge, Berlin, Germany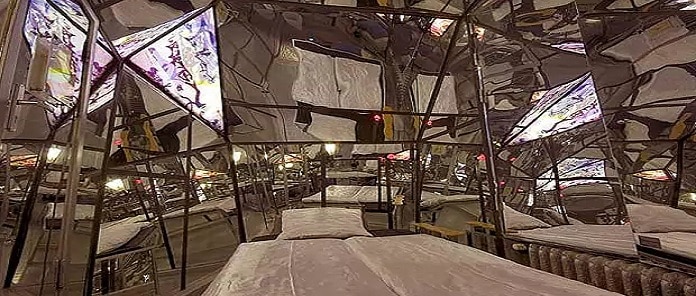 German artist Lars Stroschen designed this museum-meets-hotel, which has 30 unique rooms ranging from the tame to the extreme. There's a room lined with angled mirrors, a padded cell, a crypt room (where the beds are coffins), a room with lion cages as beds, and a room which is upside down.
Each room is considered more a work of art than a practical living space, and as such many are furnished with damageable or fragile materials. Guests are provided with a manual outlining specific rules for the care of their room's decorative touches. The rooms are not equipped with television or commercial radio, but there is a sound system featuring soundscapes recorded by Strochen. Since the opening of the hotel, some of the rooms have been redecorated.
9. The Dog Bark Park Inn, Idaho, USA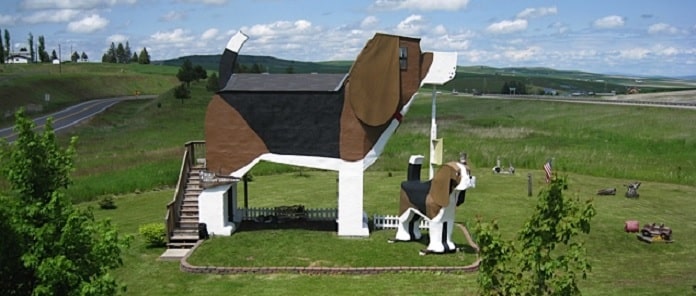 Dog Bark Park Inn is a pet-friendly dog shaped hotel located in US state of Idaho, designed by artists Dennis Sullivan and Frances Conklin. Inside the 'World's Biggest Beagle' opened in August 2003, the guests are required to enter through a 2nd story deck from where they can go up to the dog's head for additional sleeping space.
The hotel is built in the shape of a beagle, making it a famous landmark in the state. It is colloquially known as Sweet Willy by local residents. The hotel, which is located in north central Idaho, is a 2 bedroom B&B which also features dog-themed contents. Dog Bark Park Inn consists of the bed & breakfast inn, a gift shop & visitors center, and the gallery of chainsaw artists, Dennis Sullivan & Frances Conklin. Many breeds of dog carvings are prominently featured.
10. V8 Hotel, Stuttgart, Germany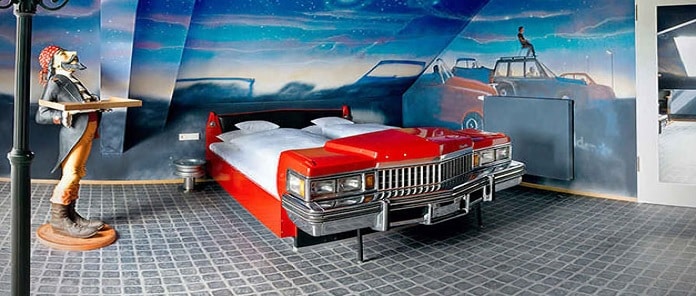 Equipped with 34 different rooms, it doesn't get much more awesome than the V8 Hotel. Located in Germany. The hotel is built within the confines of the former Boblignen Airport. While one half of the former airport is dedicated to the hotel itself, the other half houses the auto museum known as "MOTORWORLD".
Out Of 34 rooms, there are 10 themed options, four single rooms, 19 double rooms, and even a tower suite complete with its very own kitchen, sauna, and a private rooftop deck for partying with friends and family while catching some rays. As if it couldn't get any better, V8 also features its own breakfast cafe, American-style steakhouse, and drumroll please…an onsite brewpub. Because what's better than beer and cars?
So were are you going to spend this summer ?