Tropical forests, white sand beaches, historical sites and beautiful palaces make Thailand the most visited travel destination in Southeast Asia. There are also some picturesque temples which will make your Thailand trip memorable. Here are some of the best places in Thailand that you must visit.
1. Grand Palace:
It is the most popular tourist attraction in the Bangkok. The Grand Palace has ancient relics, royal halls and temples surrounded by scenic gardens but the most admirable sight is Wat Phra Kaew, a temple having a 14th century Emerald Buddha. It also has fusion of various Thai architectural styles, thus an ideal place for architecture lovers.
2. Railay Beach:
Situated in Krabi Province of southern Thailand, Railay boasts stunning white sand beaches and limestone cliffs, thus it is an ideal destination for natural beauty lovers and rock-climbers. The adventure enthusiasts can do other exciting things also besides rock climbing such as snorkeling, whitewater rafting and kayaking.
 3. Ayutthaya Historical Park:
This UNESCO world heritage site is a home to ancient ruins including palaces, temples and Buddha statues.These ruins have architecture of different styles like Persian, Khmer, Dvaravati, Lopburi etc representing glorious history of Thailand. Wat Mahathat, Wat Chaiwatthanaram, Wat Ratchaburana and Wat Phu Khao Thong are the temples that lure many visitors.
4. Khao Yai National Park:
Located in Nakhon Ratchasima Province, Khao Yai is one of the largest national parks in Thailand. It is a natural habitat of many bird and animal species but the giant hornbill, white-handed gibbons and Asian elephants are the center of attraction. You can even enjoy bathing with elephants and feed them.
5. Phanom Rung: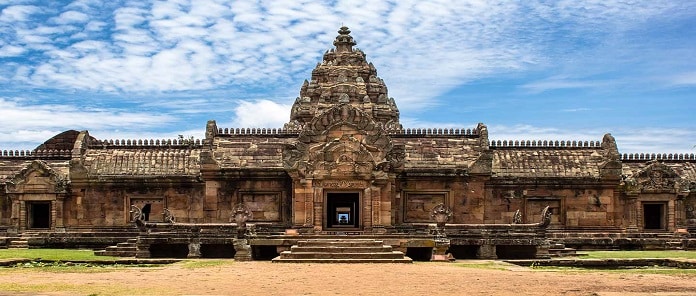 This temple is the best example of Khmer architecture that you can find in Thailand. Phanom Rung was constructed between 10th and 13th centuries to depict the sacred home of Hindu God Shiva i.e. the Mount Kailash. The temple is adorned with intricate carvings and rests on an extinct volcano. So, don't forget to visit this interesting archaeological site.
6. Phang Nga Bay:
With limestone cilffs, grottoes and amazing caves, Phang Nga Bay is a must-see place in Thailand. It has many islands but the most popular one is Ko Kan, also called James Bond Island as it was picturized in a film of James Bond namely "The Man with the Golden Gun". If you want to taste lip-smacking seafood then, you should visit nearby fishing village Ko Panyi.
7. Sukhothai Historical Park:
It is a perfect destination for history lovers and archaeologists. You can spot more than 200 sets of ruins dating back to 14th centuries at Sukhothai historical park. Wat Si Chum and Wat Mahathat temples are the highlights of the park, thus don't miss it while exploring this magnificent place via car, bicycle or walking tour.