Thailand is one Asian beauty with many desserts to offer. Not only is the food good and promising but the landscape, as well as their excellent hospitality, is worth your visit. We know that you are yearning for a long international trip with all the good elements but are not sure about your stay and overall staycation experience. We have your back!
Here is a list of 5 major resorts that will gratify your travel hunger well
1. Angsana Laguna Resort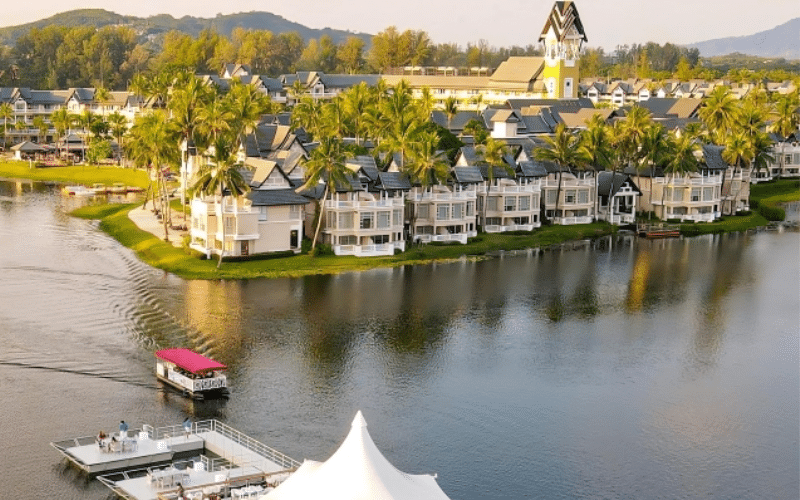 This one is a five-star rated resort so you can expect many beautiful happenings here. They offer sumptuous rooms and suites, well-lit and comfortable. They have beach access at the front. The beautiful palm trees of varying heights and grooves along the calm water are stunning views during sunset. There is a dedicated beach club to hang out with your mates during the day and enjoy your loved mocktails and cocktails by the night and is great for partying too with a large blue pool. Apart from all of this, there is an open playground for kids to enjoy their favorite colorful rides.
2. Marriott Resort and Spa
It is a huge resort by Merlin Beach with a palm-adorned pool. The beach view from the individual suites looks majestic and has a calming effect. The rooms are well-equipped, not to forget it is a top-rated resort. They have an opulent wood finish. They have an amazing pantry with Thai food options you have never tasted before. The place is luscious with quality outside seating arrangements. A special pool area is also seen, exclusively made for kids.
3. Holiday Inn Resort
Holiday Inn resort promises quality! Here your rooms get plusher with pool access and bright colored greens everywhere. The rooms so developed have a deep wood finish with a calming eccentric Asian ambiance. The pools here have more amenities to ensure fulfilling water under the sun experience. Have a pool party planned? Get to this resort. At night, the resort looks like a contemporary palace where you can reside and have the best staycation of your life.
4. Chanalai Garden Resort
We can't help but notice that all these resorts have been constructed with the view that Thailand is a world-famous tourist destination with many things to explore and each one of them always competes to offer the best to their customers. Chanalai is a spacious haven. The rooms, if you ask, have a wonderful contemporary uniqueness to them that offers a sea view too. Overall the resort has ethnic Thai touch to its build. The resort has a separate kids' space and would also take care of your tiny toddlers for your peaceful outing.
5. Pullman Panwa Beach Resort
Kids' stay is free. Now that we have your attention, let us go through what all things are most attractive here. The rooms have different categories based on their top-notch amenity, for example, for couples, with pool view, suite or for family, etc. They have a fresh contemporary feel from inside out. The lush green plain outside is a great relaxing view. Not to forget an important fact about visiting Thailand you can have the best spa sessions! Planning one? Pullman will give their best!
Read More: Why you must visit Krabi, Thailand
Bottom Line
These resorts are based generally near a lavish beach so that the resort incorporates all flavors of a luxury stay. So, when you are visiting this tropical destination, make sure to live your life to the fullest. Enjoy the luxe staycation with your family without drowning yourself in vacation loan tragedy! Its breathtaking ecology and serene cultural spots are views to behold and constantly attract large crowds every year, making the country one of the top most visited countries by tourists. It makes for an amazing tourist destination so, take along your family and loved ones and enjoy the beauty of Thailand through these suggested resorts.