Singapore's most iconic hotel that this one is, it offers the most unappareled views of the city. This one is not just any other hotel, it is a feeling. Marina Bay Islands is home to the World's largest infinity pool where you can indulge in the clear waters and soak in the sun on a luxurious rooftop. This is one of the primary attractions of this opulent hotel and nothing can beat it. If you are in Singapore and are ready to spend luxuriously on your stay, then you must book a room here prior and have the benefit of some unmatched world-class services. Marina Bay is a surreal waterfront that offers everything indifferent and stylish. This 5-star hotel is set right on the waterfront in all its glory and shows stunning views of the place.
Marina Bay Sands is a one-stop destination for everything modish. It is a set of three glamorous buildings standing tall together to represent one shining Marina Bay Sands. The splendor of this hotel is such that you will spot some really trendy fine dinings as well as exciting leisure activities. Everything is planted right inside this hotel so you will feel like you don't even want to step out. There is a whole world inside this magnificent hotel! With everything affluent, Marina Bay features award-winning dining, an opulent infinity pool as well as a wide range of shopping and entertainment options right in its premises. Everything that a guest expects from his hotel, this one has aced in it.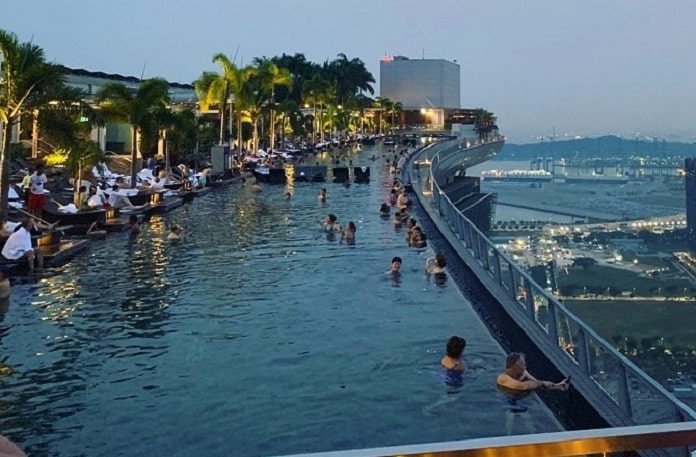 As far as your vision goes, this hotel stands tall in all its glory skylining all the way. You can view some of the most spectacular sights from this hotel and gaze down on the glittering expanse of the city from 57 stories above! That's how gigantic it is. With some luxury accommodation suites and rooms, it will give you a blend of modish living in style. Living up to its name for years, Marina Bay Sands has been the first preference for a lot of tourists. There are plenty of reasons for this. The rooms range from luxe suits to club rooms along with some lavish Harbour suites, orchid suites, skyline suites, presidential suites, and chairman suites. The list is endless and so, you are at discreet to pick the most grandeur accommodation for yourself.
Featuring floor-to-ceiling windows that give the most exotic bay and city views, every little and big service is available in this hotel right at your doorstep. If you stay at this one, all you have to do is sit back and let the hotel services do the talking. Other major features include gym centers, spa, and salon and some of the most mouth-watering cuisines ever. You will have access to some distinct cuisines here in the comfort of your plush and well-furnished room. The Bay Sands casino is also worth visiting if you are fond of entertainment and gambling. As far as deals are concerned, this hotel offers a Sands Reward Club membership wherein you can earn dollars and points that can be further redeemed at over 200 shopping and dining outlets, hotel bookings as well as entertainment units.
Marina Bay Sands offers a pinnacle luxury hotel experience with a glittering and dazzling view of the city right at your feet. Make your way here right away!