This magical island has lost none of its vibrancy, with five-star resorts offering dazzling new levels of comfort and sophistication. Bali is a vibrant pinprick of Hinduism in the midst of the world's largest Muslim country. With its beaches, palm trees and warm, blue waters, it delivers on all the tourist expectations of a tropical island. It also provides an extra dimension in its sublimely spiritual culture, even the humblest offerings of rice and petals by roadside shrines look exquisite. For most, its most powerful draw is the island's varied landscape of beach and volcanic land; for others the appeal lies in the spiritual culture. On a more pragmatic level, the island offers an extraordinary calibre of luxury accommodation.
1. Mara River Safari Lodge, Gianyar
Located in the heart of the Bali Safari and Marine Park, this resort will definitely make your stay a memorable and unforgettable one, with its quirks and unique activities.
Not only will you get to feed carrots to zebras, rhinos and elephants right from the comfort of your own balcony. You'll even get to watch the rhinos and zebras graze together while you are dipping yourself in the pool. You can dine with lions at the in-house Tsavo Lion Restaurant too.
From honeymoon to family-friendly getaways, this resort is suitable for all. Couples will enjoy the romantic atmosphere at the restaurant in the evenings, while thrill-seekers can quench their thirst for adventure at the night safari, where you can come into close contact with predatory animals.
2. Hard Rock Hotel
The 418-room Hard Rock Hotel Bali — Asia's first Hard Rock outpost — is an upscale, family-friendly resort in the middle of bustling Kuta, just across the street from Kuta Beach. Large, contemporary rooms have iPod docks and Nespresso coffeemakers, and many have kid-pleasing perks like bunk beds and game consoles. The are multiple pools, including a kids' pool, and several on-site restaurants and bars plus a spa with treatments for adults and kids. Of course, the brand's signature rock 'n' roll memorabilia is displayed throughout, and there's plenty for music enthusiasts. That being said, rates and restaurant prices can be steep, and guests should compare rates at the Sheraton Bali Kuta Resort just up the beach.
3. Padma Resort Legian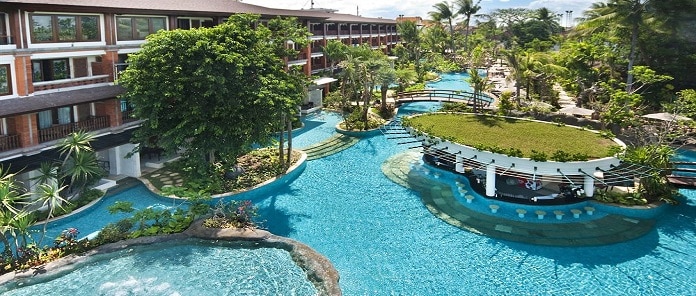 Padma Resort Bali at Legian offers 65 deluxe and 22 lagoon-access rooms with views of the large lagoon pool, 146 deluxe and 64 garden club chalets with balconies looking over the leafy hotel grounds.There are also a set of eight suites with extended balconies on the third and fourth level.The room interiors combine modern furnishing with wooden elements that go in harmony with the resorts natural exteriors.They are bright especially for those on the upper level with balconies that let in ample natural light and spacious, with rooms from 38sqm to two-bedroom balcony suites at 142sqm.Although without a direct beachfront, the sandy coast of Legian is just west across the road from the Legian Beach Boulevard, while the colourful art markets, restaurants and bars are only a short stroll away to its east along the namesake Jalan Padma.
4. Villa Atas Awan
Atas Awan certainly lives up to its namesake as the Village Above the Clouds. All three of the eco-boutique hotel's accommodation choices – Sunrise Suite, Bungalow and Sunset Suite – offer nothing but gorgeous views of the sweeping valleys and mountainous areas across the Munduk Andong Valley. The large, floor-length glass windows will also immerse you in your surroundings – imagine living surrounded by untouched nature, yet still retaining all the modern comforts you need. We don't think life gets any better than that.
5. Alila Villas Uluwatu
Alila Villas Uluwatu is a five-star luxury villa resort located on the islands southern Bukit Peninsula, a limestone cliff area that offers high and wide ocean views.The resort is located on Jalan Belimbing Sari, and is a half-hour transfer from the Ngurah Rai International Airport in Tuban, 45 minutes from the provincial capital of Denpasar, and 10 minutes to the famous sunset seafood dining destination of Jimbaran Bay.The luxury tourism enclave of Nusa Dua is 15 minutes drive east from the resort, traversing the Bukit region, where you will find among notable highlights such as the Bali Collection shopping complex, top world-class dining venues within The Bay Bali, and the Nusa Dua Theatre that holds the spectacular Devdan Show regularly.
6. Bidadari Private Villas & Retreat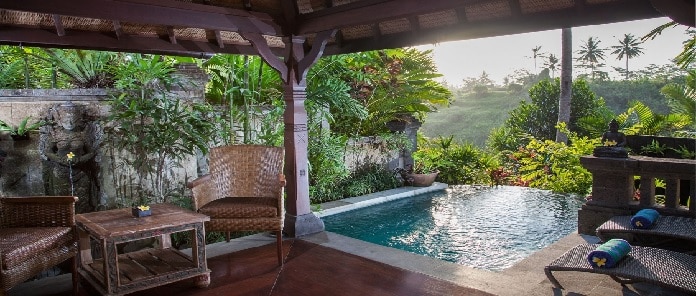 In the cultural centre of Bali is Ubud, with its famous restaurants and eclectic shopping, intermingled with ceremony and the Balinese way of life.Our villas, located 10 minutes from Ubud, are a secluded hide-a-way, a retreat, to escape the pressures of modern life, to enable you to chill, relax, and renew.The five private two story villas offer distinctive and luxurious decor with expansive living areas.Panoramic vistas cascade over the lush tropical valley of Ubud, and are enhanced with horizon edged pools.Set in Kelabang Moding, a traditional Ubud village, surrounded by picturesque rice paddies, you can experience the essence of Bali whilst enjoying the luxury of your own private Ubud villa.
7. The Kuta Beach Heritage Hotel
The Kuta Beach Heritage Hotel is a five-star hotel located on Jalan Pantai Kuta, the main street of Balis most famous beach resort area.The hotel occupies an historical location, near where Kutas first hotel was built, implying a sense of nostalgia in its name.The hotel is within only 15 minutes transfer from the Ngurah Rai International Airport in the neighbouring beach resort area of Tuban.Neighbouring Legian, famous for its lively bars and overall nightlife, is only 10 minutes drive east from the beach drive, while the upmarket area of Seminyak is further north, where most of the trendy boutiques and world-class dining and entertainment venues can be found.
8. Hanging Gardens of Bali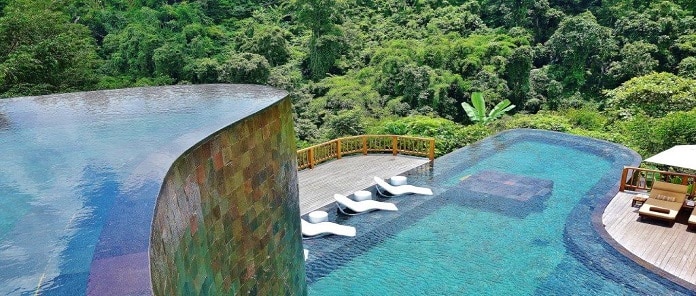 Hanging Gardens Ubud is a five-star resort in Balis central highlands of Payangan, a verdant mountain village area north of the more popular Ubud town, and offers guests a secluded stay with spectacular valley views.The resort is within a 90-minute transfer from the Ngurah Rai International Airport in South Bali, and within a 25-minute drive north from the main Ubud hub, serviced daily by the resorts free scheduled shuttle transfers.While most of the regions highlights comprising ancient temples and royal palaces as well as world-class restaurants and venues are found in the Ubud centre, Payangan provides a perfect base to retreat to.
9. Bamboo House, Ubud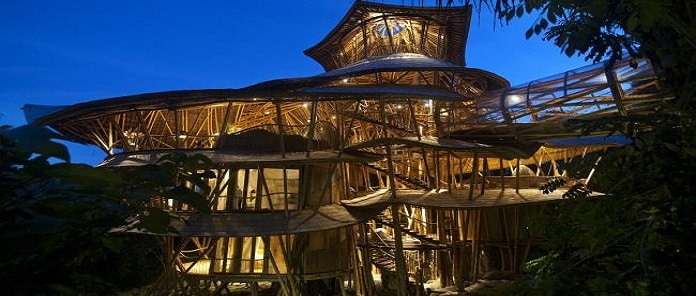 What could be more eco-friendly than staying in a house made of bamboo ?  It's not just about the beautiful view and cool mountain breeze. You are staying at one of the most amazing examples of sustainable design.
10. AYANA Resort and Spa Bali Jimbaran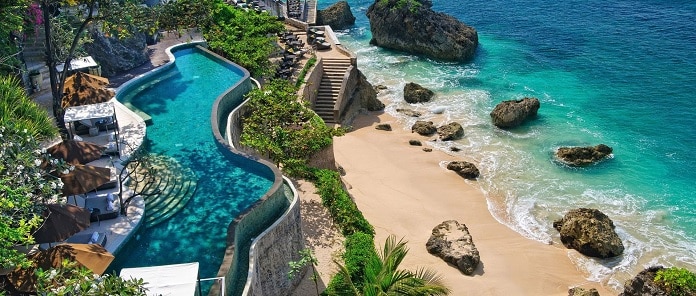 Winner of the Conde Nast Gold List award in 2012, AYANA Resort and Spa Bali promises a premium experience where you can hit the private beach to get a beach massage.11 outdoor pools provide fun for everyone, while guests in the mood for pampering can visit the spa to indulge in deep-tissue massages, detox wraps, and aromatherapy.Dining choices include 17 restaurants and the 2 poolside bars are great places to grab a cold drink.3 bars/lounges and a fitness center are other highlights, and rooms at this luxurious hotel offer up nice touches like slippers and designer toiletries.